WordPress is a completely customizable and ever evolving content management system. Introduced in 2003 to as a blogging tool, it has grown to be an all in one resource to develop robust and powerful websites. For optimizing the online presence, converting the PSD designs to WordPress is an elementary step to create a fully functional and W3C compliant website.
With PSD to WordPress theme conversion, you can leverage all the benefits of the content management system. In addition to that, WordPress will let you extend the functionality of your business site and reach out the potential audience effectively. Unlike the PSD based websites, it is easy to alter the source code in a WordPress site. A dedicated WordPress developer makes the necessary tweaks to optimize the CMS as per the needs of a business.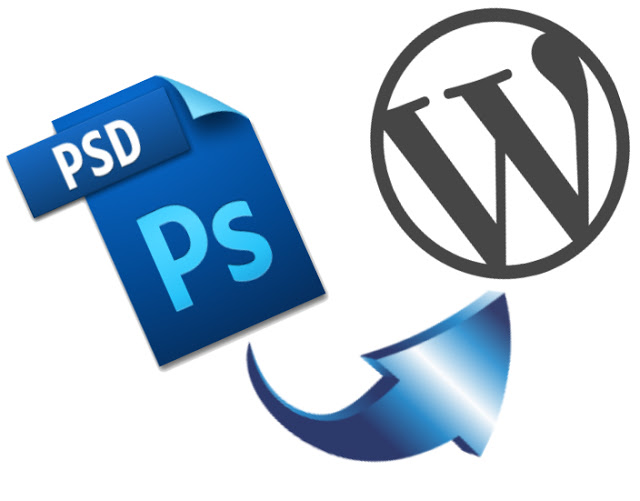 This is simply because the WordPress theme integration is a complex process, which should not be undertaken by someone who does not have a profound understanding of web languages like PHP or XHTML. Therefore, to save time and money, it is always advised to hire the professional assistance of web programmers instead of taking your chances with WP codes.
The process of converting PSD to WordPress theme starts with the slicing of PSD based design files into different layers, which are wrapper div, header div and comments. Now, the sliced files are structured and named separately as index.html (HTML codes), style.css (CSS styling codes), index.php (PHP codes). After this, the files are coded in X/HTML and finally integrated to WordPress.
Most of the online ventures opt for the professional services of a dedicated WordPress conversion company since they provide a complete package. This includes migrating the PSD files to WordPress, theme integration, adding or creating custom plugins, creating a backup, custom development, blog development, external module integration and many more. A service partner provides s business with the necessary services of a skilled and knowledgeable team of developers.
Some noteworthy advantages of consulting professional services for converting PSD to WordPress theme are that the codes for the website are:
pixel-perfect
Handwritten
W3C standard compliant
cross browser compatible
fully optimized
well commented
SEO semantic
Managing the custom WordPress amenities such as themes and plugins is inefficient without a WordPress developer. Every online business uses a CMS, such as WordPress to run a website. A WordPress developer provides the webmasters with innovative tools and techniques for the prosperity of business. It is the duty of the hired team of developers to provide the business with an impeccable digital face in the form of a powerful and reliable website and keep it up to the minute.
The need for hiring a dedicated service provider arise as soon as the process of optimization of the website with WordPress is undertaken. A proficient team of experts is fundamentally required to provide the business website as per the latest standards of the web and make it an amazing portal for users.
If you are looking forward to a robust WordPress website converted from a static PSD design, it is important to understand the need of a professional developer for it. Today, there are 60 million+ websites active which are using WordPress as their content management system. To ensure your website is unique from the lot, a skilled and committed developer is a must.
Make your ideas turn into reality
With our wordpress development services