If you're joining the world of blogging, then you'll most likely hear about WordPress.com. It's a popular blogging site co-created by WordPress founder Matt Mullenweg and his company known as Automattic. WordPress.com comes with tools that will help you blog, and most importantly, it helps in hosting your WordPress website or blog for free.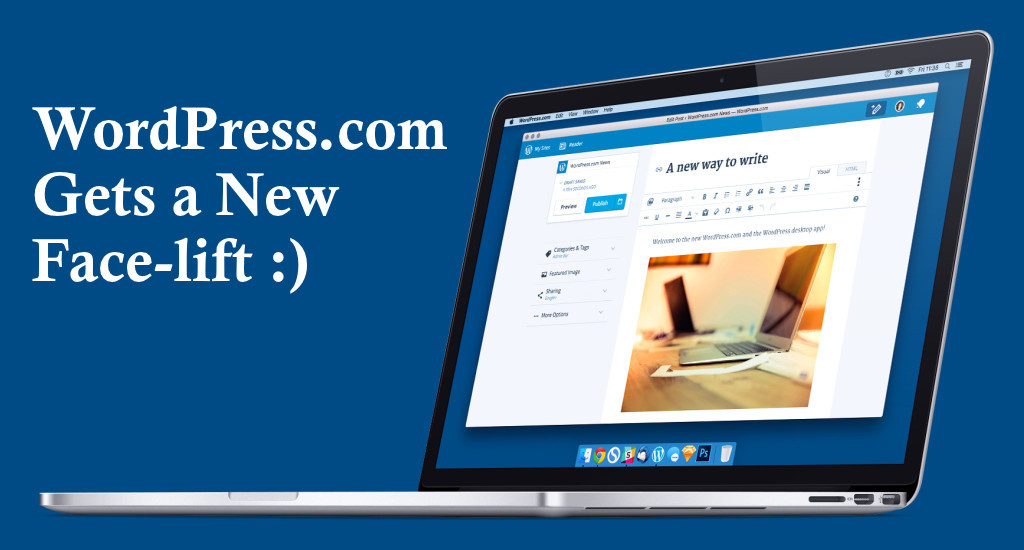 But, discussing about what WordPresss.com does isn't our agenda in this article. Instead, we intend to exert on the major enhancements that have been introduced in WordPress.com, making the WordPress.com platform gets a revamp and become 100% open-source platform. Read on further to know more about the story behind the new face of WordPress.com.
What Convinced Automattic to Relaunch WordPress.com?
A lot has changed and many new developments have been made since WordPress was introduced back in 2003 as an open-source blogging platform. And today, it has evolved into a full-fledged CMS that powers over 25 percent websites over the web. But after successfully completing 10 years of legacy, Automattic (the company that was founded by Matt Mullenweg) realized that they need to build modern and more mobile-friendly experiences to stay ahead of the competition – such as Medium.
As a fact, according to Matt Mullenweg "the tech wasn't going to take them to the next decade." This is what made the Automattic team decide on giving an overhaul to the WordPress admin interface. Although, work on revamping the interface was started a year-and-a-half ago, so as to make the admin interface responsive and a lot more faster. The company even released several new features, however, the update has been made available for public use only recently.
Below is a chart that shows the key differences between the old and new revamped version of WordPress.com:
A Look at The Major Updates Made to WordPress.com
Let us now have a quick glimpse of what all major updates have been rolled by the Automattic company:
1. New 100% open-source version of admin interface.
WordPress.com has been relaunched and features a completely new admin interface – named as Calypso – that helps in managing blogs, posting content and so on. Most importantly, some code has been made available in the interface that helps turn the WordPress.com site into an open-source software that can be used by everyone.
In case you're already running the open-source WordPress version on your server, then you can easily activate the new admin interface using the Jetpack plugin. Let's take a look at the features of the Calypso interface:
It's blazingly fast.

It is written completely in JavaScript using the libraries such as Node and React.

It is 100 percent responsive.

Help in managing plugins and themes on Jetpack website.

All of the developments in Calypso in future will be made in open, since the interface is fully open source.

Supports creating and managing multi-sites and much more.
2. PHP has been replaced by JavaScript.
As a new user, you'll probably notice how the look and feel of the blogging site has changed. But, as a programmer or developer, you'll see something a lot more remarkable: PHP being replaced by JavaScript. As we all know, WordPress is written using PHP, but it will be a totally different thing for users to work on WordPress.com interface which has been mostly re-written in JavaScript and API calls.
JavaScript when combined with latest technologies will give you the ability to build more complex apps for both client-side and server-side.
3. A New Macintosh OS X application has been released.
You can access the WordPress.com site using a new application for Mac systems. This app works pretty much like any desktop app, as it helps combine both web technologies and desktop features to deliver the same experience as the WordPress.com site. However, soon a lot more improvements will be introduced into the Mac app such as notifications.
Final Words
Whether the new admin interface of WordPress.com, codenamed Calypso, would successfully become a part of WordPress open-source project, depends on the wants and needs of the community. Furthermore, Matt Mullenweg says that they might have to face several technical challenges in integrating their new interface since Calypso is a complete technical overhaul than just being a revamped admin interface.
Make your ideas turn into reality
With our wordpress development services