WordPress needs no introduction. With the flurry of CMSes being introduced in the market, it is only WordPress that has been able to retain its name in the market. With plethora of companies offering the services to Convert HTML to WordPress, there are even more clients who are willing to use WordPress to handle even the complex websites as the flexibility and scalability level that WordPress comes up with is just tremendous and beyond comparisons!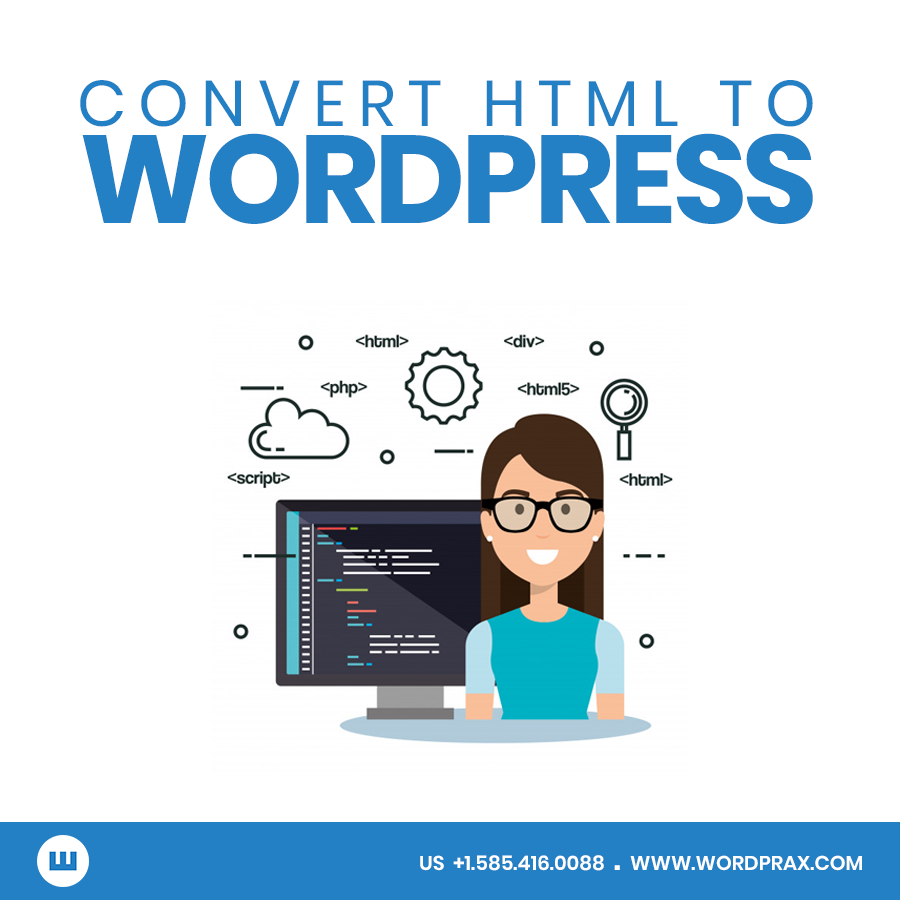 If you have a website that you haven't quite updated in a while and you are sobbing over that dead website! A change is always for the better!
Old and obsolete websites with no advanced features and dynamic functionalities is like a car without an engine. Like a car can't move without an engine, a website will remain static until it's not run by a dynamic CMS like WordPress. It's a great idea to convert HTML to WordPress Website so that your website can become dynamic and your business can grow fast.
WordPress wins in the race of other CMS and here is why?
You must be thinking why are we stressing on to convert HTML to WordPress as your web platform and not any other CMS?
Well, there are many reasons that would convince you to shift from any other platform or HTML to WordPress. We would be discussing the benefits of WordPress also later on. One should never ignore these benefits so that they don't have to repent later on!

WordPress lets the developers to create websites according to the requirements of the business and its goals. This is the super power of WordPress that it is the powerhouse of more than 80 million websites around the world. Isn't it amazing? It crosses the share of other web development platforms that powers the websites.

Now, we are going to discuss the benefits of WordPress as a CMS and why you should use it.
Ultimate Benefits to Convert HTML to WordPress
The main advantage of converting your business website to WordPress is that you don't have to spend money on buying this software. Another major thing it's an open-source website development platform that will never let you worry about the creative limitations while creating the website in this platform. Let's discuss all the benefits in detail now.
Customized and personalised websites
The best part about WordPress is that it is not only made for experts. Even a beginner WordPress user can start over easily with WordPress. It has an extremely easy learning curve as all the options and settings to edit, modify and remove from the website are very much clear from the admin panel or dashboard itself! That's why web developers find it extremely easy to work with WordPress and the best part is it creates required website in much less time. A simple WordPress website can be created within a few minutes.
Unlimited themes with plugins directory at hand
There is a huge database of free themes and plugin directory is there to add functionalities to your website easily. You can find any type of website theme, however there are paid ones also- called premium themes.
Google-friendly websites for complementary advertisement
WordPress provides the opportunity to create websites which are SEO-friendly to the core. On the top of it, plugins like Yoast SEO and All in One SEO pack can be used for more effective and productive results.
Conclusion
WordPress is ideal for anyone in the world whether these are the startups or big companies, the makers of WordPress work voluntarily and believe everyone has the power. It gives an instant and easy medium to create a stunning website and one can see it up and running with negligible efforts. The dashboard of WordPress is so intuitive and user-friendly that you would never like to switch to anything else from WordPress. If you have got to convert HTML to WordPress from a professional and expert team of developers, you can handle the website later on.
Make your ideas turn into reality
With our wordpress development services