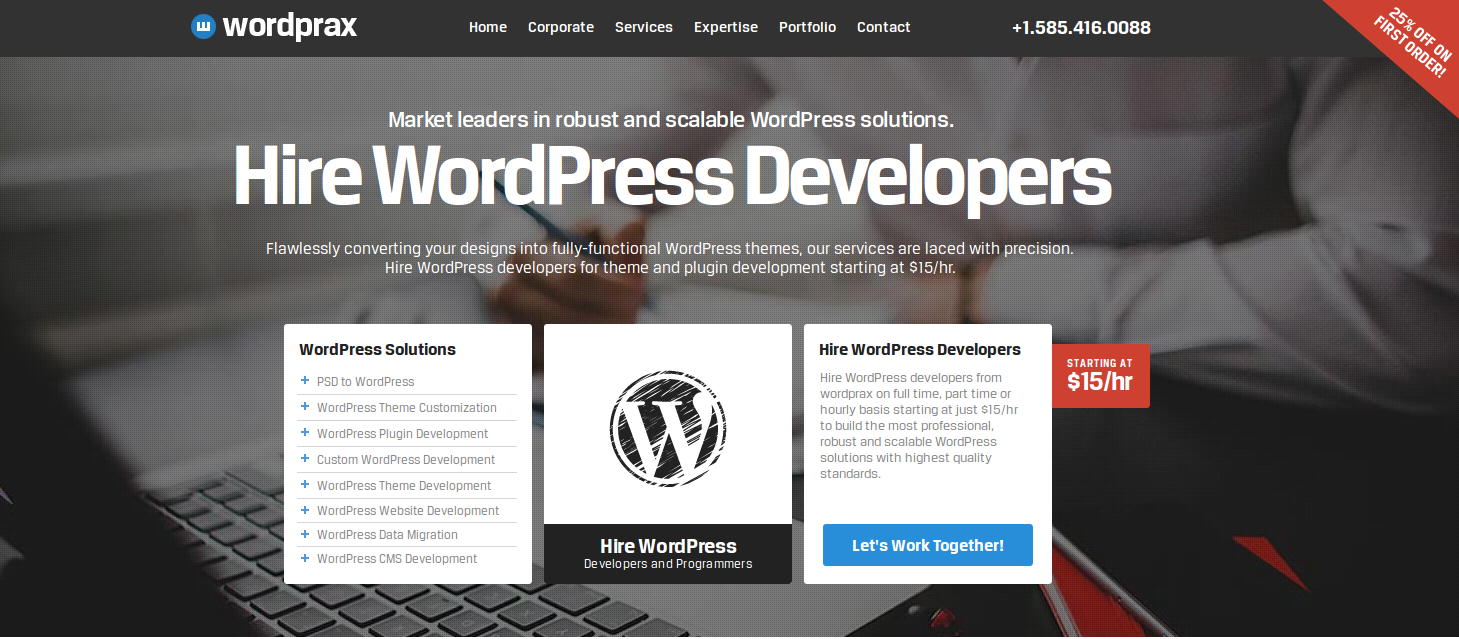 Many businesses jumped on the WordPress bandwagon, leveraging its popularity for a robust online platform. Today, the worldwide usage of WordPress websites has reached to 74 billion, an increase of 34 billion since 2015, shows an online survey. Going online has become a trend now and whosoever fails to do so will not receive the perks of an online business.
With an increasing demand of WordPress developers to create online ventures, we have also decided to go hand in hand with the seekers by lowering down our prices of On Hire WordPress Developer from 18$ to 15$. The idea being: We both should benefit in this horde of going online.
We understand that for start-ups or professionals, it's a new and good beginning, but at the same time it's very difficult to get on board with such high prices.
Why us?
If you ask anyone at WordPrax, they'll tell you: we love our clients. In fact, customizing their preferred solution is in our work ethics. Since day one, our customers are our focus as they are the life-line of our business. With out ethics of doing business with customers, we also would like to tell you why are we a choice of more than 4500 fully satisfied customers.
Facts about us:
We are the largest WordPress software company with over 10+ years experience
We have delivered more than 50,000 successful projects till date.
We have a team of more than 350 developers whose core job is to get you a robust platform for your online business.
We are ISO 9001 Certified company in terms of adhering to the latest guidelines and standards of working ethics.
Working with us will get you:
Unparallel quality:
Leading the way in high-impact, high-performance WordPress development services, WordPrax guarantees solutions that are qualitatively rich.
Round the clock support:
Uncompromisingly customer-focused, the WordPrax personnel is available 24/7 to assist our customers with all their queries about our services.
Competitive pricing:
Get true value for your investment with our competitively priced WordPress services that are characterized by robustness, scalablity and reliability.
Proven Methodology:
We combine innovation with tried and true methodologies that we have practised with our assorted clients, further equipping us with expertise.
Skilled Developers:
The WordPress developers at WordPrax are adept with latest industry standards and technologies. Hire them to fuel your business for uninterrupted expansion.
This is what our clients say about us:
"Associating with WordPrax has meant we have some versatile and power-packed solutions at our fingertips". Emerson Anderson, Sales Manager, Green Fish Marketing
"Investment in WordPrax's services has surely meant that all our capital and revenue was well spent!" Stella Miller, Brand Manager, Miller & Jason Co.
"I am so glad that after months of restlessly roaming around, I found an able partner in Wordprax"
Arron Wright, Director, Sunny Crab Ltd.
At WordPrax Ltd., we believe in delivering projects with utmost satisfaction of our customers. So, we'll sit with you until you'll get the project as you have hoped. Another wonderful news is, we are offering 25% discounts on your first order to put a cherry on your project. Work with us and we'll make sure you'll be our 4501′ satisfied customer.
Make your ideas turn into reality
With our wordpress development services