Undeniably, the most popular of all the CMSes across the globe is WordPress. WordPress has been able to woo upon the developers across the world. Thus, giving rise to WordPress CMS development services in the most exponential way. Unless you have been living under the rock, you might probably be knowing the fact that WordPress powers 23% of the total websites being run on internet today. Whoa! That's a great feet. Isn't it?
This is the point where Wordprax appears proudly on the scene. WordPress is the powerhouse of millions of seamlessly developed WordPress websites being run on internet and that too, including Fortune 50 websites. Doesn't that call for a need to give impetus to WordPress development services? Yes, it does! WordPress is the key factor behind all those marvelous websites that has been able to garner the attention of plethora of users and people around the world.
WordPress is free to install and an apt CMS to begin with. It is a CMS with flawless interface and one-of-a-kind simplicity with an unmatchable power to create the most dynamic and SEO-friendly websites. Without WordPress as a CMS, the websites would be dull and dreary adding to the boredom of the html websites. Adding color and life to a website, WordPress with its booming features and robust functionalities, none can beat the versatility of this CMS.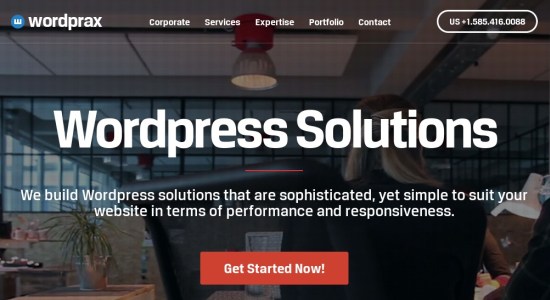 Wordprax aims at not just developing websites but weaving magic into the plain old websites that were the thing of the past. 350+ exceptional WordPress developers at Wordprax have created hundreds and thousands of triumphantly running websites for the esteemed clientele scattered across the world. 10+ years is a long time and Wordprax has garnered unlimited positive feedbacks from the clients in the past years.
Why we stress on WordPress as an extraordinary CMS for your website is because:
We believe that the CMS should be easy to use to a greater extent.
We have a large number of professional WordPress developers giving us back.
You never run out of the WordPress mavens rendering 24*7 customer and technical support.
We have garnered attention from the clients around the world because we build top-notch WordPress websites with high-end goals in mind. The developers in our team are WordPress specialists who hold years of experience in developing websites with one-of-a-kind powerful features.
Apart from these exclusive benefits that one can score upon by using WordPress as CMS, Wordprax developers are apt at theme migration services, theme customization as well as customized plugin services. The themes developed are highly responsive and innovative. Innovation that encourages us to render value driven WordPress outsourcing solutions is our USP.
We place you on top of your game and you can owe this to a deep-rooted insight that is peculiar to Wordprax team. Use of agile technologies tightens the security of the website that is being created by Wordprax. When you partner with the most professional WordPress experts, your specific business requirements are met in the most amicable manner giving you that much needed edge over your competitors.
Make your ideas turn into reality
With our wordpress development services