The first thing that put us to surprise when WordPress team came up with the last major release of the year 2017 is the name WordPress 4.9 "Tipton". Billy Tipton is a bandleader and a Jazz musician. Anyways, a really interesting fact to know!
As we all know, WordPress is the most favorite and popular platform of millions of developers across the world. This is owing to the fact that WordPress dashboard is really easy to handle. Apart from this, WordPress customization is also gaining popularity across the world because of this.
Many Improvements for WordPress developers and designers!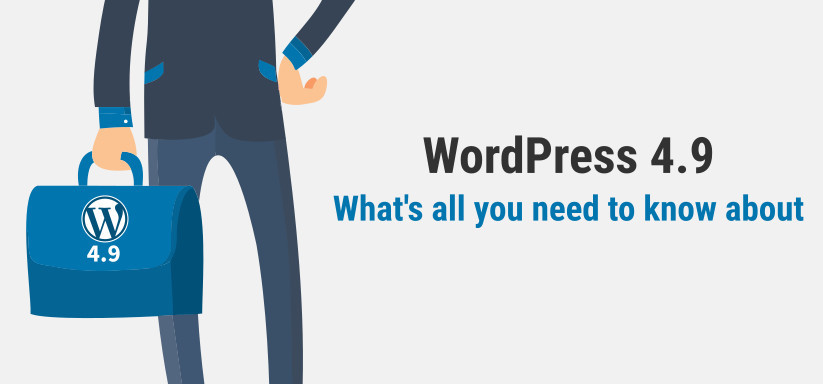 There are many tidbits of the changes made in this all new improved and enhanced WordPress version. Website designers providing WordPress development services will have the following features to take advantage of:
Design Drafts.
Scheduling.
Locking.
Preview Links.
WordPress designers now don't need to worry about designing at all! If you want to make your website live with some new customized designs, and you have conveyed the date of launching of new website to your customers and audience, you don't need to keep awake at odd hours to get done with the design and publishing the customized designs. All you need to do using this WordPress 4.9. This is a great option for WordPress customization. Just schedule the design and the new design will go live at your time you have marked.
Apart from drafting and scheduling the design drafts. You can now get a preview link to share with your friends and colleagues so that they can guide you on the designs and give you suggestions.
When there are too many designers in a team, the chances may be that one may not like the design you created as a designer, so the best thing is that in this WordPress 4.9, you can lock guard your hard work designs so that no one can mess up with your work at all!
Not only protecting your hard work, but also you can save your design afterwards also, when you want to! WordPress asks you for whether or not you want to save the work you did before leaving your desk.
Improvements For WordPress Developers in WordPress 4.9:
In WordPress 4.9, much is in store for developers who can now easily code in CSS and HTML widget. Sometimes, what happens is you see display problems on the screen. When you get to the coding window, it may take hours to find that wrong line of code and fix it. So, to make things easier, how about if the intelligent feature of WordPress tell you what line of code went wrong?
Error-checking and highlighting makes things very easy!
Also, there is a new Sandbox for safety features. To add more to the awesomeness to there is Gallery widget all new improved and enhanced. When a user adds text to the website, he may want to add images, videos and audio to the posts, it is now possible to do this because of one-click adding of media to the text posts.
Make your ideas turn into reality
With our wordpress development services