If you have already decided to choose PSD to WordPress theme for your business or brand website. Believe us, you have already won half the battle and the rest will be won when you hire a professional website developer or yourself start with the hassle-free 5 steps to convert the simple PSD theme to a dynamic-looking WordPress website. It may look very terrifying to start with all these steps if you are really not into the technicalities of the website development.
It is not a difficult task to go and hire a PSD to WordPress web developer who can help you take care of the conversion process as well as handle all the issues and problems that you may have to face yourself. The things can get very tacky and unhandleable if you don't have any professional web developer at your end. We can compromise on the costs of development if we decide to hire a developer but it helps to save your money in the future.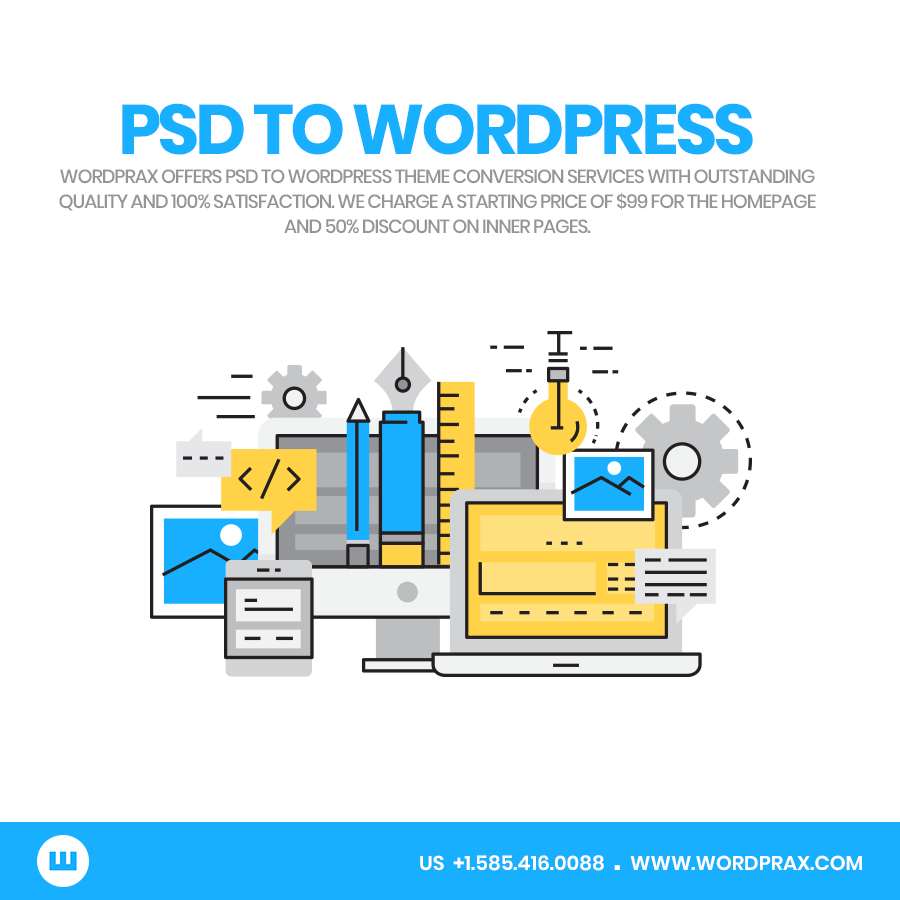 Steps to Convert PSD to WordPress Theme Professionally
1.Evaluation of the PSD design file
A professional developer starts out by evaluating and reviewing the PSD design files. Customized design starts here. Even the design changes can be done if the files are opened in Adobe Photoshop software. In this very first step, a team of developers of the company also tries to comprehend the technologies to be deployed while executing the process to convert PSD to WordPress website.
2. Slicing PSD files
After the PSD files are properly reviewed by the professionals in order to carry out the slicing of the PSD files. Slicing is also done in the image editing software like Photoshop. A number of layers are created in a single image so that a pixel-perfect WordPress theme can be developed for the client. After the PSD slicing process, a developer can then style the theme buttons, links and boxes. Then a format is chosen to save the gif or JPEG images thus created after slicing of the files.
3. Index.html and Style.css files
A developer will now code the elements that were sliced in the second step. HTML/XHTML format is chosen for coding. Coding should always be done manually so that there are no flaws and the code is clean. This can't be achieved with the tools that are available online and which promise saving time. Only a diligent coder with experience can create files like style.css as well as index.html.
4. PSD Integration
We can call this step as very crucial which has to be done only by the experienced programmer so that PSD integration can be executed. Hire WordPress developer who has proper technical expertise for PSD integration. HTML helps the PSD design to come live on the internet for the world to see your website. CSS Programming is required because the web pages need to be styles properly with all the elements of the web page on place. If this step is not carried out carefully, problems related to online presence can arise.
5. Theme Integration
After all the above steps have been carried out by the developer as well as a designer of a professional and expert WordPress web development company, then is the time to integrate the theme properly. Some awesome customized themes of WordPress can be created by following these steps. This is one of the most important steps for creating great WordPress templates. After integration in this PSD to WordPress theme conversion process, the final theme is tested for delivery to the client.
Conclusion
Therefore, we got to know that a proper step by step guide has to be followed for perfect PSD to WordPress theme conversion process.
Make your ideas turn into reality
With our wordpress development services