There is no doubt about the fact that WordPress is the best ever CMS all around the world where millions of users create websites by using the WordPress Themes. The best thing about WordPress is that it comes with so many WordPress themes that can be used to create websites for various niches. But, the best part is that there is custom WordPress development which can be used to create branded websites across the world. WordPress is such a Content Management System (CMS) that is really beginner-friendly and all its settings can be modified according to the needs of the website owner.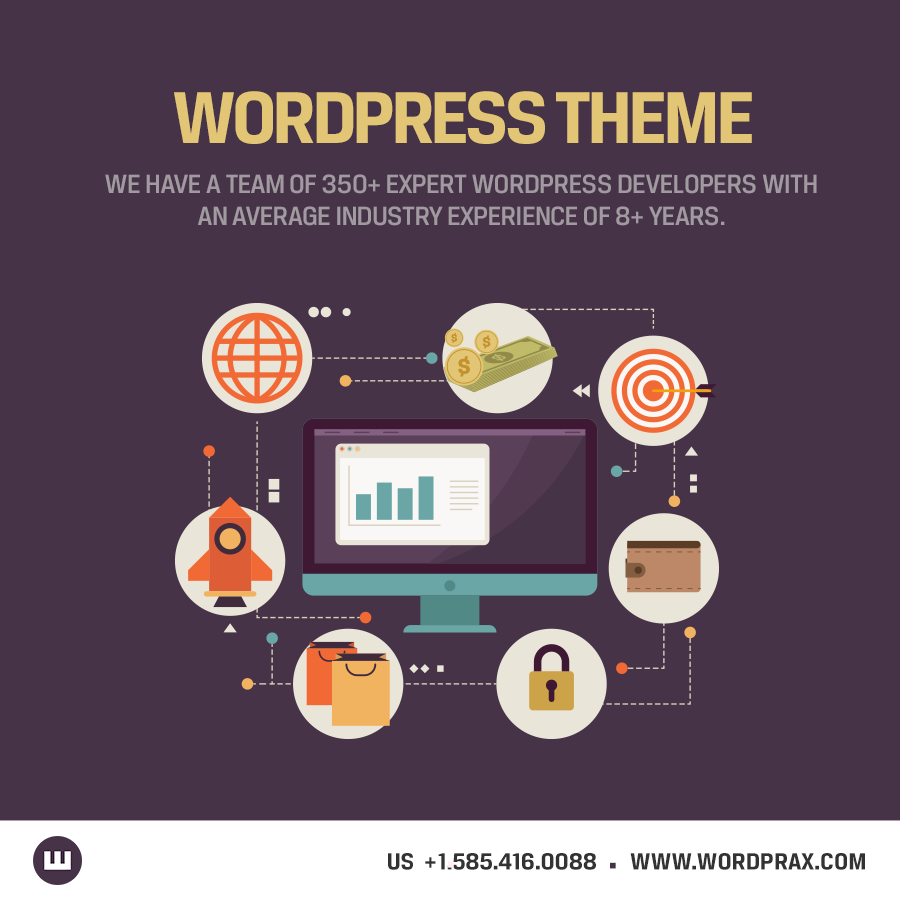 In some cases, your beautiful WordPress theme will help you create an ideal brand website for your business. The goal of website owners and WordPress users is to create such a website that can give amazing user-experience to the users. This also gives an amazing opportunity to create a personalised website with all the elements that are necessary to impress the website users. After all, custom WordPress is made to impress the users of the website by creating a great website. An appealing website with all the features that are unique and never seen before will always be able to attract the traffic as well as retain the traffic.
Why take the aid of Custom WordPress development for your website?
As we already said that a custom WordPress website is the best solution to any website needs and requirements. WordPress web development is already very popular because of the fact that a WordPress website always looks dynamic and robust. Moreover, the websites created with WordPress are really fast and responsive which helps to grasp wider audience across the world using various devices and gadgets.
Here's how to create a unique and new website with personalisation?
Convert a WordPress theme to a custom brand site
A website should have a very clear goal to attract a certain kind of audience and then retain them with further features which are accessible to the exclusive users of the website for sure. This is the true meaning of all branded websites: effectively attracting visitors and creating a potential sentiment to inspire them to take action for the future. If you are still confused at what is a branded website then we can say that a branded personalised website is the one which shows in first look that it is the website related to a particular niche and not just any website.
What happens is that when we use a WordPress theme which is in the directory of the website and a custom WordPress Developer is not hired for the same, then the website will not look like a branded website but a common website with no special features and plugins or customized designs.
The theme of the WordPress brand may be overwhelming at first, but you can do it. By splitting the design process into multiple components, you can create the style of the site you need and effectively project the brand.
1. Determine the branding to create
Of course, the first step in this process is to determine the brands you want to create. The first thing to do is an important decision: Do you want to share upscale, fun, practical, modern and powerful branded website?
Often, most brands belong to one or more of these top-level categories.
If you're not a brand expert, try this exercise and make a big decision in 90 seconds:
Who is my client?
What is the brand requirement?
If your answer is this: If my client is looking for a professional white collar solution, turn it into a high-end branding approach. If you have an answer: I would be able to create a deep emotional connection with a powerful brand, I would like to choose light-weight theme and then modify and edit it according to the needs of the client and feel the capabilities of the customer.
If you get the answer: Create a custom WordPress website using cheap widgets and adopt a simple and practical brand image.
2. Look for inspiration from other WordPress sites
One has the chance to explore the favorite websites and take the time to discern them. When browsing different websites, imagine them as themes and insert different images and unique content for each one of them.
If you explore the WordPress Hestia theme, you will easily see a very practical design, which can be marked in different ways. This theme is simple, there are only 4 changes (background, title font, title color and button color), so when you hire a custom WordPress development company
Heavy image design.
Full control on font and color.
Flexible title area.
3. Colors and fonts
The importance of colors and fonts tends to be overlooked. A simple white background can give a serious image, but a smooth black background may be a better choice for innovative technology companies. Similarly, you choose the font that offers the opportunity to choose a traditional commercial style (Calibri, Times New Roman, etc.) or leisure. When designing your website, do not be afraid to test different colors and font options. Before you try the changes, you'll never know what you love most. Therefore, custom WordPress website is the
4. Using Images
Images are a great way to customize WordPress themes. A consistent style of selected images plays a major role in the development of custom branded websites. Therefore, custom WordPress website development is the way to go.
Simple custom art
The custom illustrations above used in WPMUDEV can make a big difference when converting a WordPress theme to a custom branded website.
Conclusion
WordPress is a very flexible CMS that is able to offer its users the way they want to get their website created with all the personalised and branded in all respects.
Make your ideas turn into reality
With our wordpress development services