WordPress CMS is the market leader in developing websites on internet. WordPress has made it easy to create and manage websites. Due to huge benefits of WordPress the demand for PSD to WordPress conversion has been rising very rapidly. When we talk about the transformation of the PSD file to WordPress, we have to discuss PSD to HTML conversion also as it is the important step which needs to be completed carefully.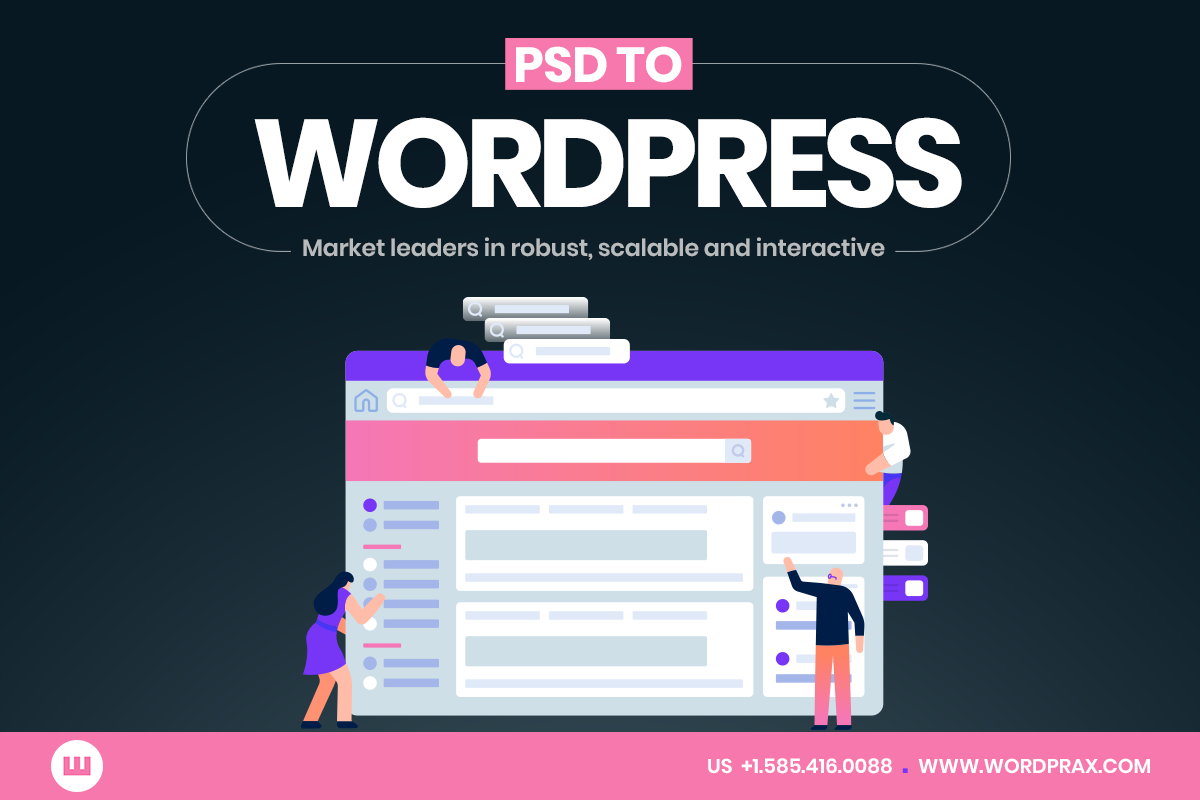 What is PSD to WordPress Conversion?
Now a days PSD to WordPress conversion has become one of the main reason for the success of a website. In this process, before starting the development work, a standard website design is prepared in Photoshop in form of PSD file. After all the desired and needful changes and customization, that design is converted into a WordPress theme to bring out an amazing WordPress site. As it is the end task before you get the final website therefore it holds high importance in website development market. There are so many web development companies which are ready to convert your PSD designs into HTML/CSS and ultimately into WordPress theme. That's why today there is a huge demand for PSD to WordPress conversion services in the web development market.
Getting Ready for PSD to WordPress Conversion
If you are ready to convert your PSD files into WordPress, then you have to start from somewhere. If you don't know from where then read on. We have seen many people who want to convert their PSD files into WordPress and start learning themselves to accomplish to whole process. They watch many YouTube tutorials hoping it will help them to learn how to convert PSD files to a WordPress theme. But the truth is that most of these how to guides and tutorials only tell you about the basics and don't tell you about the practical aspects of this whole process. Hence what you will learn online may not help you much in carrying out the PSD to WordPress conversion process. That's why the role of professionals become very important as only they can do what you want to do. Now we will discuss about the main reasons why you should always hire professional to do PSD to WordPress conversion.
Knowledge of Photoshop and HTML Conversion is Required
Each of the PSD design to WordPress project starts with the slicing of the PSD files. After slicing, the files need to be converted into HTML. Hence it is important for you to find and hire someone who is not just good in Photoshop but who also understands HTML, Semantic mark-up (for SEO), as well as front end development languages like JavaScript. A non-experienced developer may not be able to create mark ups, slice them up and convert them into HTML. This whole process can only be done by a professional PSD to WordPress developer who has many years of experience under his belt.
Deep Knowledge of Working in WordPress
Only a professional with deep knowledge of working in WordPress CMS can help you to convert any PSD files to a perfect theme for your website. The reason behind this is that a PSD to WordPress developer knows the fundamentals such as hooks, tags, filter and template hierarchy and they also know WordPress functions and its architecture. Moreover, they know coding in PHP therefore they can write clean code for your custom theme quickly, efficiently and effectively.
Knowledge of Testing and Validation
All of the WordPress theme which are created from PSD files have to be validated and tested for cross and multi browser compatibility. This work requires high level of technical knowledge of the WordPress framework, solid understanding of HTML and CSS and also the knowledge of how search engine works. If you hire a professional developer for this job, then he will even do the optimization of your WordPress theme for performance and speed. Hence you should always hire a reliable and experienced team who can do PSD to WordPress conversion and also do testing and optimization work.
Conclusion
The conclusion is that you should not waste your time watching YouTube tutorials and reading documents in the hope that you will become master of how to convert a PSD design to WordPress theme. Rather you should quickly hire a professional and expert PSD to HTML and PSD to WordPress developer for your website building project. We have discussed all the important aspects and reasons for hiring professional WordPress developer above like a professional has the right kind of technical knowledge and experience to convert PSD files into a clean, SEO friendly, responsive and user friendly WordPress theme. Hence now it's your turn to take your final decision by hiring a professional developer and build a successful WordPress website for your business.
Make your ideas turn into reality
With our wordpress development services