WordPress has always been the favorite of millions and thousands of people around the world who want to get their websites created with much robustness and dynamism along with efficiency, productivity as well as scalability. There is so much flexibility in taking the WordPress website to another heights that one would always love to make awesome website changes that are sure to impress the users of the website and bring in more business as expected out of a great website replete with unique and exclusive functionalities of the users of the website.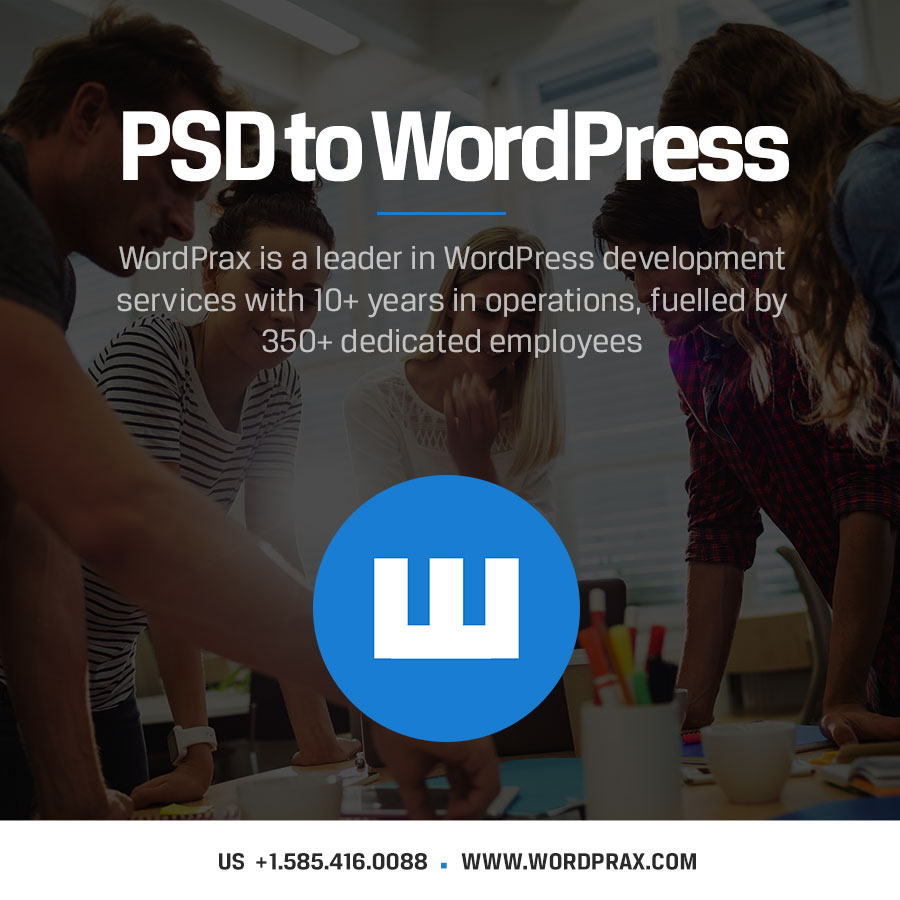 Luckily, we are aware of the fact that it is PSD to WordPress Conversion that takes you one step closer to the best output that any entrepreneur would expect out of the investment on a website. Isn't it so?
Well, you may think that you have some basic skills or technical knowledge on how you can convert PSD to theme in WordPress or maybe you have all the friends telling you that you can go on with the conversion process just while watching some very popular YouTube tutorials out there, there are hundreds and thousands of tutorials on how to convert PSD to WordPress website. We bet not one will be suffice for you to initiate the task single-handedly.

Because we are the professionals, we know how much hard work, knowledge, expertise and perseverance is put into a single PSD to WordPress conversion of a website for a single client along with the requirements of the clients with regard to the outline, layout and design of the website, leave coding alone, there are numerous factors that one has to keep in mind and consider them along the process of the conversion.

Ask yourself some questions and you will be surprised to find yourself incapable of doing this process. But, to become more aware and convinced of this fact, you first need to read this full article so that you come to know that the benefits of converting to WordPress are many, only if…Yes! Only if the website is converted to WordPress Theme in a well logical and structured manner, an organised way with well-set rules and regulations to get the best benefits out of the WordPress website.
Do you understand the language of WordPress?
Are you aware of all the programming languages that are used in the designing, developing and modification of the WordPress themes. WordPress itself uses PHP and MySQL as the fundamental programming language. Creating a WordPress theme requires so much experience with developing similar themes and conversion process in the past so that the developers are able to complete the PSD to WordPress process in a very professional manner.
If you make the decision anyway, to go with the flow and utilise your own limited knowledge about converting the website to WordPress, we would just like to ask if you know much about functions.php and style.css?

Because WordPress itself is written in PHP, use WordPress you need to know PHP. For a simple PSD to WordPress, you need to understand this all. Wait, that's not all. Also, according to best practice coding, you need to make sure that the W3C checks the code and runsit in your browser.

Your site should have a fair idea of page Search Engine Optimization (SEO) so you can start investing in search engines. You need to understand the user experience, the website's performance, and the right cache.
You need to know a lot.
Are you still interested in converting this PSD to WordPress on your own?
Even if you say "yes", you are not fit for this job. To implement WordPress design, you need to hire an experienced WordPress Developer / Genesis encoder.

Because a physician who provides medical service and teacher services needs to perform a conversion service from PSD to WordPress, Genesis Encoder / WordPress-specialist developer is essential. WordPress developers are the experts and are definitely the right people to create a WordPress website.
WordPress developers have everything you need to change design into WordPress. He knows the details of how to use WordPress, and the implementation of basic formatting always provides invisible benefits. So you need a developer.
Best website development standards and practices
Here are some of the best practices that all WordPress developers need to get a great WordPress site. In fact, you can now call the quality guide. Quality decision is very important in developing high-quality webpage issues.
Technical compatibility of themes: There is a lot to note. But the most important thing is the quality and meaning of the code. Example: hook and etiquette.
Next, you need to pay attention to the theme-related files and settings. Security and validation of data are also taken into account by providing PSD to WordPress conversion services to obtain high-quality WordPress sites.

Custom WordPress themes must take into account the WordPress encoding standard. These requirements apply primarily to other projects, so you do not have to comply strictly with these requirements.
When creating a custom WordPress theme for accessibility, create semantic and well-formed HTML. If necessary, you need to add ARIA characters and skip the link, font size, and contrast tool.
Do not use inline styles if possible. You need to split the CSS file into logical partitions and mark them in appropriate locations. WordPress network developers are encouraged to use a seemingly appropriate CSS framework, such as grid framework or reset. IE-specific CSS has been downloaded to a separate file, and developers must use conditional comments.

The PHP code is well structured, well commented, easy to maintain, and adhere to common best practice. The code format must be consistent between the file and the project. There should be no errors or warnings in the code.
If possible, use jQuery instead of a simple JavaScript code. If possible, to provide a WPD service to a customer, you must place the jQuery code in a separate file and place it correctly in the queue during PSD. The code should not create JavaScript errors.
Conclusion
All companies that offer PSD to WordPress need to remember that the rules and guidelines of the conversion process are ignored, affecting the speed of the website and the SEO service and the user experience can even go wrong.
Make your ideas turn into reality
With our wordpress development services