WordPress has been no doubt, a popular CMS for the people around the world so it needs no introduction at all. There are so many features and functionalities that WordPress has and which are loved by the people. These exclusive features are enough to make this CMS- the favorite of the people around the world. If you already have your PSD files in PhotoShop , you just need to hire an Expert PSD to WordPress who can change the PSD files into a dynamic WordPress website with all the unique functionalities that are important to make a great impression on the web visitors after all!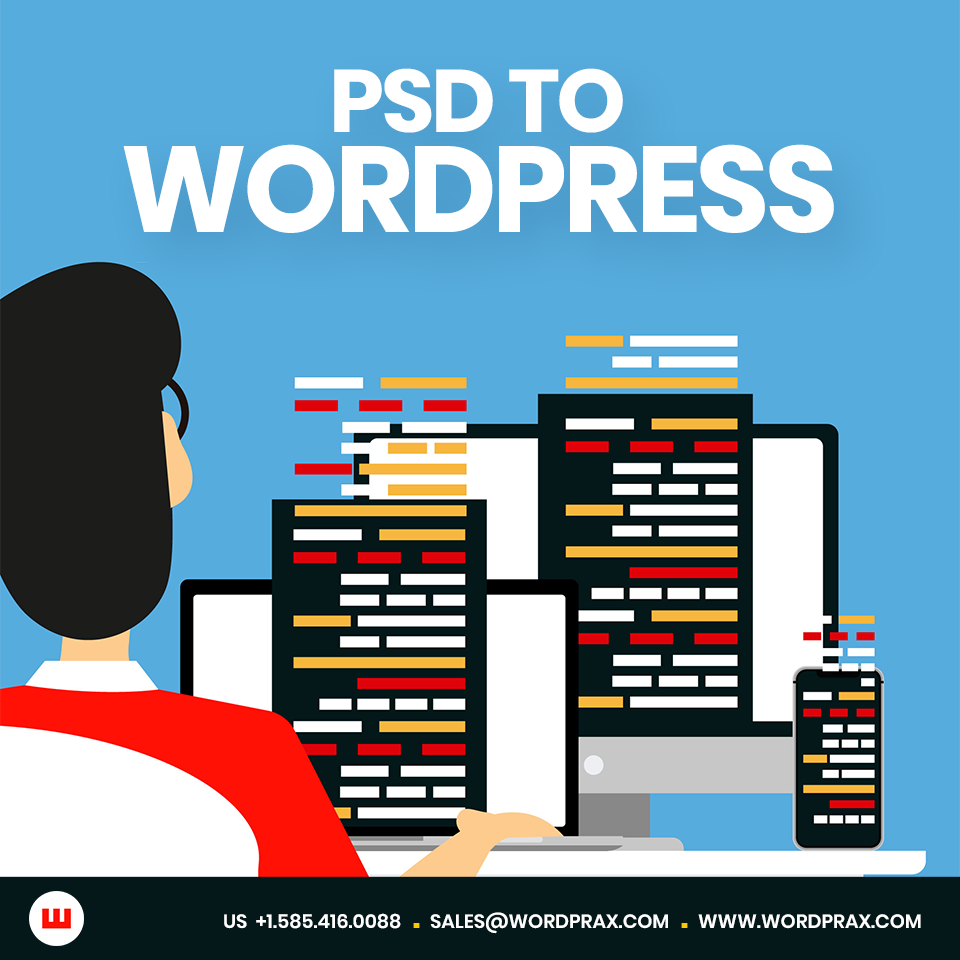 Why choose WordPress over other CMS to build your website
WordPress has so many benefits that one can choose it easily over other web development platforms. Of course, these advantages attract the web developers and web designers to use WordPress in place of all other platforms available around the IT industry. Here are the benefits that PSD to WordPress websites have over others:
By hiring a WordPress developer, you can easily get a theme that is ready to upload and that too, a fully-functional theme.
The WordPress websites one gets through this conversion method is always created through an effective method that works!
A robust and unique website full of functional features that will help you grow your business really quickly and easily.
It is really important that that the website created should stand out from the crowd. After all, a website is created just to impress the web visitors. If your competition is not online and doesn't have a solid presence online then you have an edge over your rival. Around 29% of the websites that run on internet today are based on WordPress which means that WordPress is capable of handling the most of the websites easily- and that too any kind of website can be created with WordPress. The website can be complex or even a simple one.
The easy guide to convert PSD to WordPress is given below so that one can change the PSD Photoshop websites easily to WordPress and with professional tips and techniques.
Basics of PSD to WordPress website conversion process are
What are PhotoShop PSD files?
PhotoShop files are the files that are made by the web designers in which the website design is created by the website designer as the client tells them to. This is because of the fact that it is kind of a fundamental step where they have the chance to change the design as per the client requirements. This file is created in the Adobe PhotoShop software, and saved as a PSD file so that it can be animated through coding and other things by the web developer. PSD to WordPress is the best process of conversion for sure to get the best website for business.
This is an editable file which can be used to select the best design for the website. Editing is only possible when this file is opened in the PhotoShop software.
Step 1: Convert the PSD format to a smaller image
As is well known, PSD includes some of the images. Therefore, conversion of the PSD template into WordPress theme requires you to cut PSD design with the help of slicing process in this PSD to WordPress conversion process.
Step 2: Create HTML and CSS files
You can use HTML and CSS files when creating static web pages. It is therefore useful to understand HTML and CSS coding to create the website theme.
Step 3: Create stylesheet.css
To do this, select the editor. In this case, you will need to create a file and rename it to Home.html. To save a CSS file, open another editor and save it as stylesheet.css.
Step 4: Add WordPress Theme to HTML
The most important reason is to convert a PSD to WordPress to create a user-friendly web site template that can be easily downloaded to the WordPress dashboard.
Index.php: Represents the file on the home page.
Header.php: This file is used to define a common title design for all web pages.
Footer.php: You can add a footer that is common to all pages.
Category.php: This page allows you to view all categories.
Tag.php: You can use this page if your site needs tags.
Sidebar.php: Now you can create a sidebar that is common to all pages.
Date.php: This page displays the date and time.
Search.php: Run search function.
Step 5: Download Topic
When the code is in the file, you will need to download the theme to your website.
Step 6: Paste WordPress tag
With WordPress tags, you must support WordPress predefined features for WordPress.
Make your ideas turn into reality
With our wordpress development services