WordPress is right now the most popular Content Management System (CMS) which is used to build all kinds of business websites. Since its inception in 2003, WordPress has evolved a lot from a simple blogging platform to a most preferred open source website development platform and right now it is used to build any kind of website including blogs, news, travel, e-commerce, online booking, on-demand delivery etc. Reports say that WordPress has been used to build 31 % of all the websites on internet. WordPress has been used to build top sites such as the New York Times, CNN, Jay-Z, Katy Perry, UPS, eBay among others.

Hence if you are planning to build a business website then choosing WordPress CMS and building WordPress Website is the best and the right choice for you undoubtedly. Now we will discuss some of the benefits of using WordPress as your website CMS:
WordPress is Open Source and Free to Use
WordPress is an open source CMS and free to use to build any kind of website. Many big companies like Disney, Time, TechCrunch also use WordPress as their Content Management Services and get benefits of its free availability. Other than that many plugins for WordPress that add functions and features are also free. Hence if you use WordPress to build your business website then you will save money which you can invest in marketing and promotion of your WordPress website.
Thousands of WordPress Themes and Plugins are Freely Available
As there are thousands of themes and more than 55,000 plugins available for WordPress blog, store or business site hence you can have your own unique look and also have additional functionality and features as you want. Official websites of Sweden, BBC America and Beyonce also use WordPress and they have different looks, features and functions. Good thing is that many WordPress Themes are customizable which provides you control over your site's colors, fonts and formatting within your chosen theme's overall structure.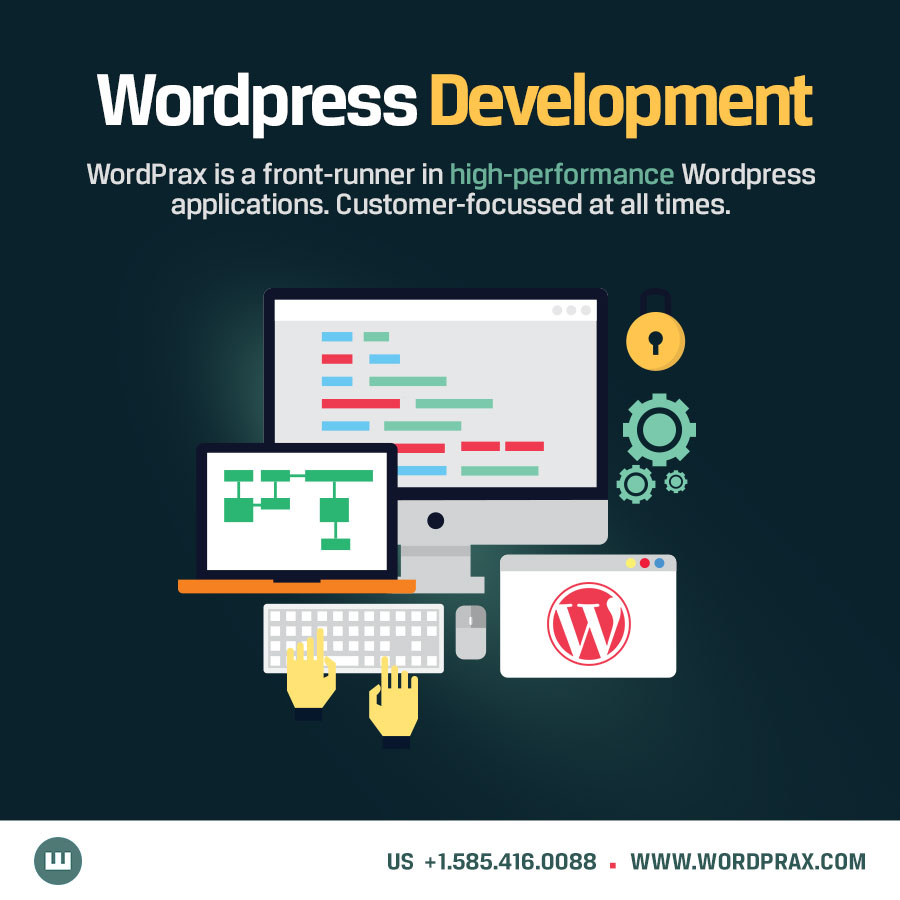 You can Easily Publish, Revise and Update Content on Your Website
One of the biggest benefits of WordPress content management system is that it is easy for writers, store owners, photographers, video producers and podcasters to publish their content without knowing how to code. Hence publishing a blog post and adding images don't require any technical knowledge. It is just like creating a text document or a slideshow. Using right plugins, sharing videos and podcast audio also become easy. When you want to make edits and updates, you just have to go to the post, make your changes and click the update button.
Your Content Can be Found Easily as WordPress is SEO Friendly
Everyone wants their audience to find their posts, products or information about their business easily. WordPress makes it easier for that to happen, by keeping your website in such a way that it is easy for search engines crawlers to navigate and by giving you a way to enter and refine your content's title tags and meta descriptions without any coding knowledge. These tags and WordPress optimized structure allow search engine crawlers to quickly know what your content is all about. There are also many SEO plugins which increase the SEO friendliness of your WordPress website.
WordPress Websites are Responsive therefore Your Content is Mobile Ready
Now everyone knows that our websites should be mobile friendly as more than 50% of the website traffic worldwide comes from mobile devices. Hence every type of content you include on your site whether it is images, text, reviews, product catalogs, videos – needs to load fast and display properly on mobile devices. A mobile optimized WordPress site makes your content to look right on mobile devices and if you host your WordPress website on good hosting then your site will load faster too. Hence the smartphone users will see the content and images of your website properly if it is built in WordPress.
You can Easily Set Up Your Online Store
If you run an online store, then products are your most valuable content and items. You can use free WordPress plugin named WooCommerce to set up an easy to navigate, mobile friendly catalog and product pages with huge conversion ratio. WooCommerce has many extensions for social media, payment services and shipping companies which will help you to promote, sell and ship your items smoothly and quickly.
Conclusion
If your aim is to build your best business website which is easy to manage, easy to update, easy to edit, SEO friendly, responsive and has lots of features and functionalities then building your website using WordPress CMS is the best option for you. With WordPress, you will get all of the above benefits plus you can also set up your online e-commerce website using plugins and extensions. There is no doubt that WordPress Website will open doors of success for your online business.
Make your ideas turn into reality
With our wordpress development services