CrowdReviews.com has announced the list of Top 10 WordPress Development Companies across the world and WordPrax Ltd. finds its place in the Top 3. This survey was conducted by the reviews of the customers they experienced during their work encounter with the companies, and the reviews were based on their comments. Clients gave their full contribution and were forthright while expressing their opinion on these firms.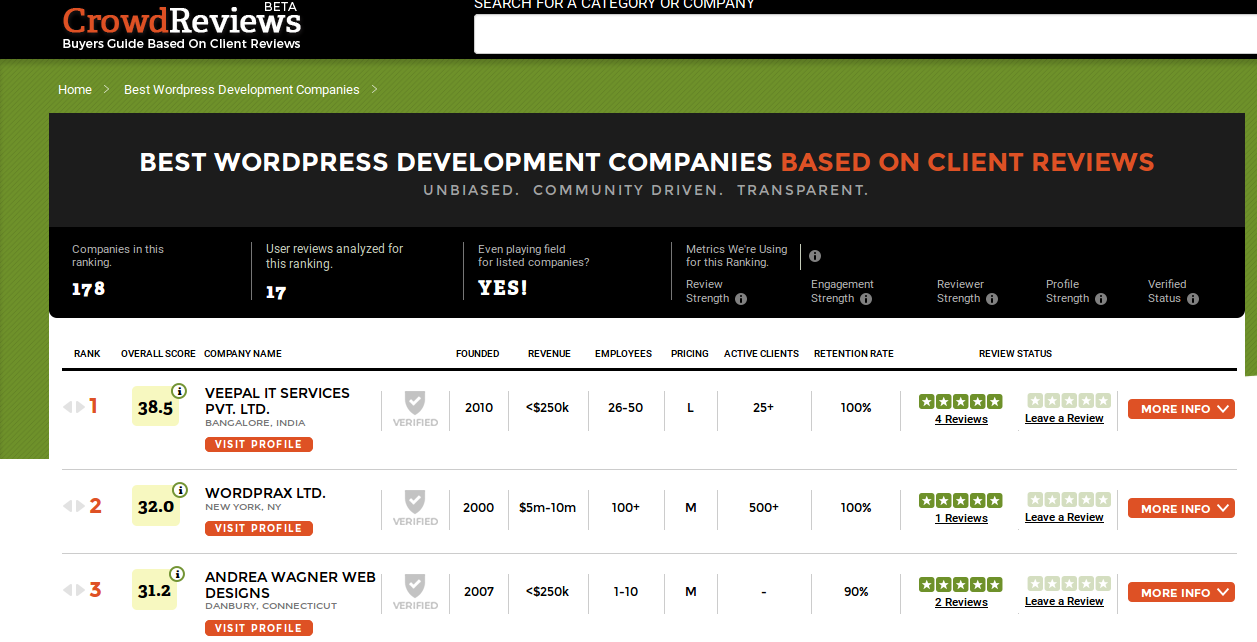 Crowd Reviews utilizes its proprietary analysis methodology and in-depth research to identify the leading IT companies, which consistently offer high performance software development services. The evaluation was done across a range of five parameters viz. Review Strength, Engagement Strength, Verified Status, Profile Strength and Reviewer Strength.
On this achievement, we asked the take of WordPrax's CEO and he said, "It's an honor that all out clients deem us fit to serve them, and this would not have been possible without the commitment put in by our team, so a big round of applause to them. I would also like to thank CrowdReviews.com on behalf of WordPrax to provide such an excellent platform through which we can directly reach out to those who need genuine services." He continued saying, "We strive hard to provide robust, interactive and dynamic WordPress Development services. We are grateful to our loyal clients for writing true reviews to the survey sites like CrowdReviews.com. It builds a close relationship with them."
When asked about the key ingredients for their success, he added "The Web and mobile development has inflated so much that there is no particular formula, as the requirements of each businesses are distinct. So in short you need to improve your tensile strength and meet up to their expectations and the credit goes to our development team that renders competitive solutions to our customers. I would also like to thank our clients for taking out time from their schedule and shower on us their reviews through firms like CrowdReviews.com. This instills us the confidence to keep up the job."
About CrowdReviews.com
CrowdReviews.com is a reliable US-based platform that helps software consumers in finding the most suitable software vendors worldwide. The platform openly discusses on the quality of the goods and services amongst the buyers and providers and generate unbiased reviews based on the genuine customer feedbacks.
About WordPrax Ltd.
WordPrax Ltd. is an IS0:9001 certified software development company headquartered in New York, USA. It has a strong team of over 350+ highly skilled developers to deliver innovative, reliable and secure IT solutions to SMEs across the world. The company holds the trust of over 4,500+ clients across diverse business verticals.
Make your ideas turn into reality
With our wordpress development services