Migrating to WordPress is never a bad decision in your endeavor of getting a website developed for your business. Thanks to myriad of benefits it confers over its users ranging from user-friendliness to the ease of dashboard management.
Wordprax is a WordPress outsourcing development company which has always delivered top-notch WordPress solutions to the global clientele. Every positive feedback by the clients from across the world is a testimony to the overall dexterity and forward-thinking approach of the team at Wordprax.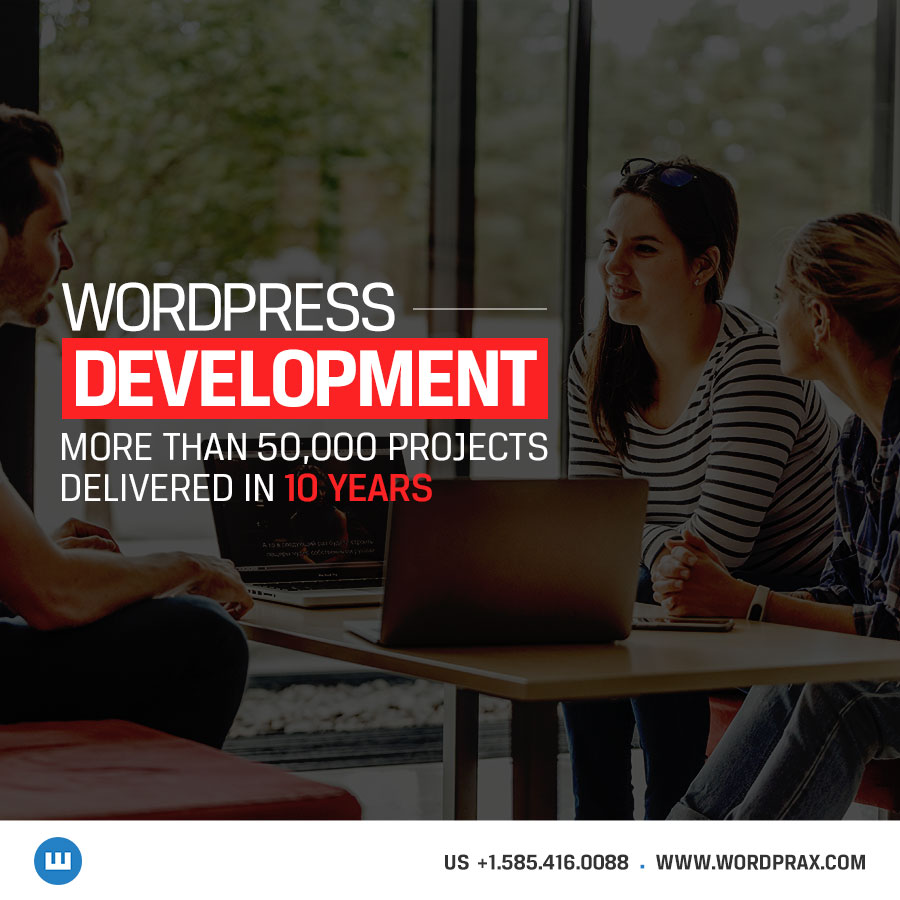 No doubt, there are hundreds and thousands of WordPress themes and plugins which would surely suit your palate, but there's always a chance to hire a team of expert WordPress developers.
Here are some quick facts about Wordprax:
350+ specialists in WordPress to execute your project with utmost professionalism deploying the latest tools and agile technologies.
10+ years in rendering high-quality dynamic WordPress solutions means a lot for the further projects of the clients.
4,500+ satisfied clients have assured their trust in the customer-focused approach of Wordprax at all times assorted with innovation-driven approach.
50,000+ WordPress projects had been executed ultra-successfully by the experts at Wordprax.
But why should you invest? You should invest into a professional WordPress development services to get a website created that is visually attractive and dynamically functional .
Why choose Wordprax for outsourcing WordPress development?
A motto that is strictly followed by Wordprax is that the team creates WordPress solutions which are simple yet sophisticated at the same time to match the requirements of the clients in terms of responsiveness and performance as well. Wordprax believes in user-centric approach inside and out. Growth-oriented solutions at cost-effective prices are sure to win the hearts of the clients and Wordprax believes in it very passionately and skillfully.
Wordprax Services Infocus:
Wordprax believes in deep-rooted insights because they know well about the fluctuating trends of the website development market. Tools and technology being deployed are most agile and latest. Every step taken by the teams at Wordprax are focused towards growth and betterment of your business landscape.
Here are the key development services being rendered by Wordprax:
WordPress theme customization
WordPress plugin development
Intelligent WordPress development services
Some conversion services adding to your business value are:
PSD to WordPress
HTML to WordPress
Joomla to WordPress
Drupal to WordPress
Magento to WordPress
These broad range of services by Wordprax are rendered meticulously to the clients so that the cost of production can be reduced to 45%. Owing to the rigorous guidelines being followed at Wordprax, the client retention ratio has been at least 95%!
Unwavering 24*7 Customer and Technical Support:
Wordprax makes sure that the team representative is available round-the-clock with unwavering attention to the clients. Daily status reports about the projects helps keep up nicely with the clients and this is something that WordPress project managers never fail at!
Talk to the rep at Wordprax for best ever infallible WordPress solutions or visit www.wordprax.com to get details about what they can accomplish about your business requirements.
Make your ideas turn into reality
With our wordpress development services