The popularity of WordPress Development Companies speaks a lot about the constantly growing demand for WordPress solutions and services. WordPress is a vast arena and comes in two variants viz: WordPress.org and WordPress.com. While the former one refers to an organization that delivers free downloadable WordPress installations, the latter one represents an entity that renders WordPress software as a ready-to-use service. If you're thinking about choosing WordPress.com instead of WordPress.org, here's a blog that will help you learn more about the cons of WordPress.com and why avoiding it can turn to be your best decision.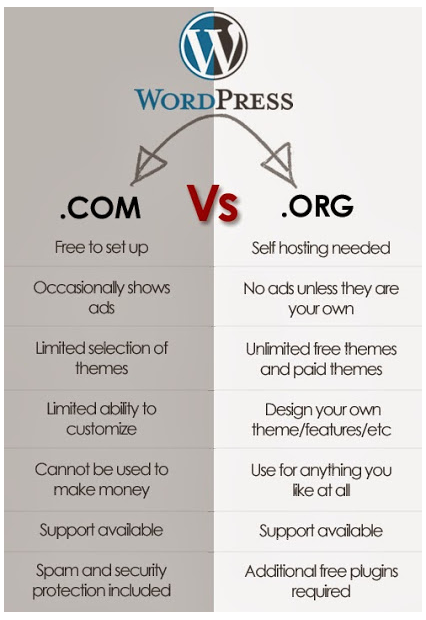 Here's a list of reasons why ditching WordPress.com for WordPress.org is good:
1. Access to a limited number of themes and plug-ins:-
Themes and plugins form two crucial aspects of a WordPress powered website. Well, with WordPress.com, you're constrained to the themes allowed by the site. Currently, the website serves as the hub for 160 themes with some of them available for free and others for a specific sum of cash. Since WordPress.com doesn't render you flexibility of changing the page structure, you're infact dependent on the theme's structure that the author permits you to change.
2. Content and Copyright issue is a part and parcel of WordPress.com:-
The TOS(Terms of Service) of WordPress.com clearly states that the website has royalty-free access to all your data which can further be used for promoting your WordPress enriched website/blog. In other words, by submitting content to WordPress, com, you grant the site a permission to reproduce, modify and publish the same for displaying, circulating and promoting your blog. Moreover, by choosing WordPress.com, you showcase your confirmation for placement of advertisements on your blog/site. However, you may get these ads removed by paying a marginal sum of $30 per blog on a per annum basis.
3. Adding style comes for a cost:-
On WordPress.com, once you've settled on a theme and want to make a few tweaks, you need to purchase the Custom Design Upgrade that can use the CSS available on your blog. Currently, the service is available at a price of $30 per blog on a per year basis. This could get quite pricey in accordance to the count of blogs that need to be customized. In all, handling custom WordPress development seems a challenge if you've chosen WordPress.com.
To sum it all, WordPress.com can turn to a bad choice for someone who wants to have complete over his/her WordPress site/blog. Loaded with some serious design limitations, dumping WordPress.com is a good option. Then what should you choose? WordPress.org is the answer. Whether its about having an access to numerous themes/plugins, handling the content/copyright matters or adding styles to your site, WordPress.org can serve as your best partner. So, go ahead and leverage the best potential of WordPress.org for making the most of your web presence.
Make your ideas turn into reality
With our wordpress development services