When WordPress Theme options first came into existence, it was a thing of great pride and happiness for most of the WordPress users because it enables the WordPress users to change the Theme Settings and that too, without touching any CSS files or theme files. Even, there is no need of coding when you have Theme Options in hand.
For instance, the default theme of WordPress, that is Twenty Twelve, does not have a Theme Options menu, instead it uses the Theme Customizer option for WordPress theme customization, where in the users can live preview the changes made in the website before finalizing the changes. This is a great feature for WordPress Theme Customization.
This is indeed, a very helpful feature because it allows WordPress users to not risk the whole website and view what the website will look like after the changes are finalized. This is a holy grail for WordPress beginners or if ever, you would like to experiment with the theme modification for background colors, image placement etc.
Theme Options have options to modify the theme in these ways-
1. Layout
2. General
3. Fonts
4. Header
5. Sidebar
6. Comments
7. Footer
8. Pagination
9. Social
Other options are Advanced and Analytics. All the options in the Theme Options Menu are shown below in the image: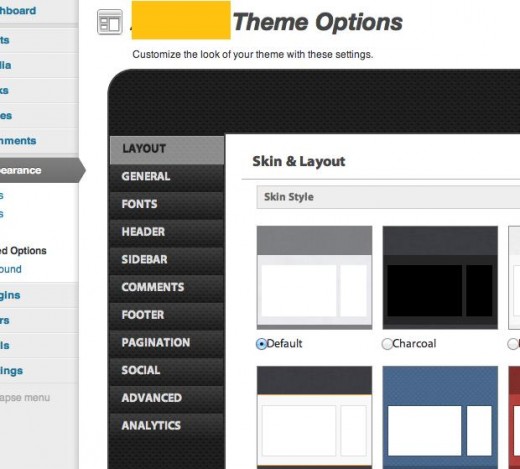 But, what is a thing of great surprise is that the Theme Options menu is losing it's sheen and significance because of the very powerful and efficient Theme Customizer in WordPress to customize the themes. It allows users to live preview the website before finalising the changes made to the theme. The developers rendering WordPress web development services use this option as this is time-saving and saves any risk to the website.
Theme Customizer has been on the shelves from quite a while now. It was released in WordPress 3.4 and since then, the WordPress users have been using it for the options mentioned as:
Custom CSS
Image galleries
Layouts
Themes
Background colors
Custom text boxes
Plugin switches
There is no doubt that with the coming of the theme customizer, Theme Options Menu will become obsolete because of the reason that theme customizer provides almost same options to modify the themes as the Theme Options Menu and that too with much ease and no hassles.
Why would Theme Options will go Obsolete?
Theme Options will go obsolete because of many reasons.
First things first, even after downloading any modern, sophisticated theme in WordPress, Theme Options Menu seem to mark their existence in every other theme where it might not even be necessary. The best option, however, would be to go for WordPress web development services for best WordPress theme customization.
What would Theme Options do?
It would allow the designers, site admins and site owners to modify and customize the themes using easy Activate and Deactivate options. It was all easily done using no coding at the user-end.
Second reason, Theme Options would have a different menu in every site theme. It would certainly create problems.
Make your ideas turn into reality
With our wordpress development services