WordPress is undoubtedly the most popular and most flexible Content Management System (CMS) which lets the web developers create some very unique websites for the clients with varied business requirements.
Thanks to the ease of modification and editing that this platform offers over other platforms. No doubts about the fact that WordPress has been able to empower thousands and millions of designers across the globe. Moreover, the ease of writing, editing and publishing makes the website owner to take control of the things that otherwise are difficult to accomplish with an old HTML website.
You can go ahead with HTML to WordPress website development so easily that you would just need to hire a professional who knows the ins and outs of WordPress web development.
Ultimate Benefits to choose HTML to WordPress Conversion: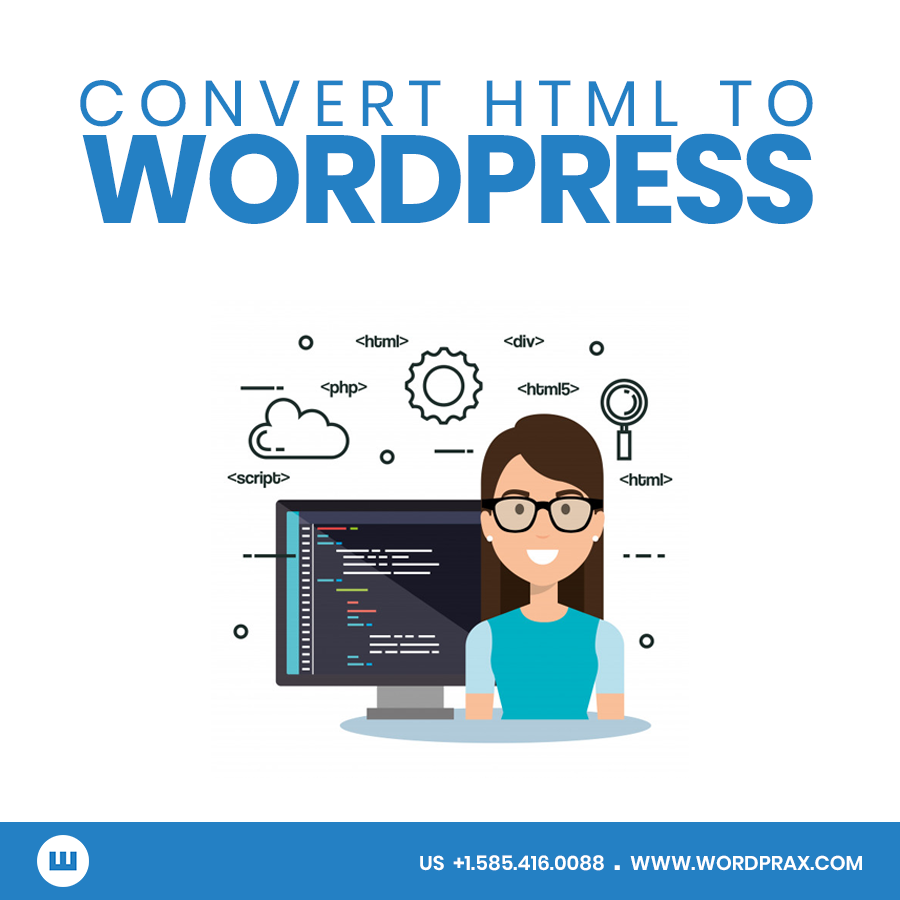 We can't totally keep HTML on the backseat as it forms the basis of most of the websites. Also, it was only the programming language HTML that empowered in the web developers in the past to create the best websites with features that were considered to be topmost in that time period. As the world goes completely digitised and competitive with new brands and startups coming up every single day, there arises a need to find a platform as flexible as WordPress. Here's why you should switch to WordPress asap:
1. Fully functional website websites with WordPress
A great website helps a business or a brand to connect with the people around the world easily. But, they are not able to reach to the people easily and in a an interesting manner if they use old techniques and methods of building the websites like HTML. WordPress is the most updated and feature-rich CMS letting the website developers show off their creativity to create unique websites for the clients.
2. Ease-of-use in WordPress dashboard
The WordPress dashboard is so de-cluttered and clean that you would love to use it. Most importantly, one can get the hang of it very easily and ina fraction of seconds. It just looks like any other website with an organised menu at the side of the website. All the options to make changes in the website can be found easily. Another reason why you should opt for HTML to WordPress websites is that one can edit the website by logging into the admin account of WordPress.
3. Extraordinary SEO capabilities
With a simple website as made in HTML can not provide you the opportunities to make your website more crawlable and reachable to the wide variety of audience that are around the globe. But, with WordPress easy in-built SEO features and functionalities as well as variety of plugins available for use, you can make your website very much targeted and reap the benefits through conversions.
Why would we recommend on choosing HTML to WordPress development services is that there are so many companies and expert developers around the world who can create some amazing websites for your dream project. There are so many huge forums on the internet that you would be helped by someone whenever an issue arises. The world knows well the power of WordPress and so, 29% of the total websites being run on internet today are powered by WordPress.
5. Customized websites
With some great themes and plugins at hand when WordPress is chosen over other CMSes, the websites created are completely unique as well as suited to the individual customer and client business requirements. This gives an edge over the others for sure.
Conclusion
With the points discussed above, it can be safely said that your HTML to WordPress conversion investment will never go waste. Rather, it will open some amazing opportunities for you and your business.
Make your ideas turn into reality
With our wordpress development services