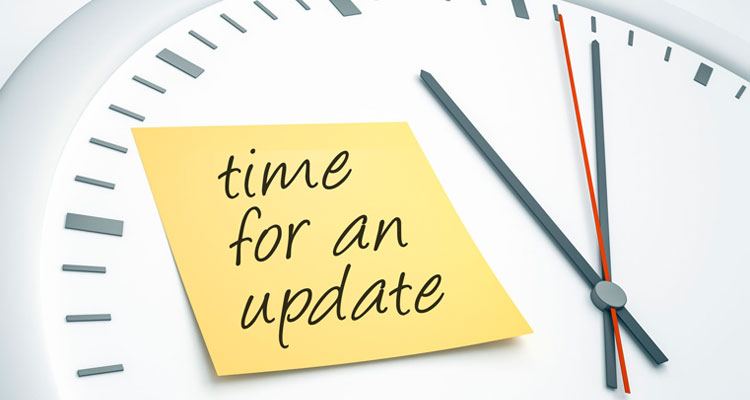 WordPress is an ever growing Content Management system which frequently releases its new versions. With every new update, there is a buzz whether it is worth to upgrade the latest version of WordPress or not. Well, it is very crucial to update the latest versions of WordPress. Here are some important reasons.
1. Enhanced Security
Since WordPress has accumulated millions of users, it has also targeted thousands of hackers at the same time. It's powerful content management system which serves more than 24.7% of the websites on the web which certainly drive attention of the multiple users who are called as "Hackers" or "Data Thieves." They probably crave to embed a malicious script into your website. Therefore, security is arguably one of the most crucial reason why to keep your website up to date.
The new and advanced version comes with improved security and advanced features. This not only applies to the core software of WordPress but also to the universally accepted WordPress themes. Thus, in order to ensure safety and highest security for WordPress users, one needs to focus on its features and security.
2. Better Performance with good Speed
WordPress always try hard to make things faster. Every new release of WordPress comes with several improvements in performance which make the popular CMS run quicker and more efficient. It also speeds up the performance of the existing themes and plugins. As an instance, the newer version of WordPress 4.2 comes with several new improved JS performance for navigation menus. The WordPress 4.1 comes with complex queries which help to improve the performance of the website.
So updating your WordPress website with the latest update helps you improve the performance of your website along with plugins and themes.
3. Reduce Bugs
Many times, bugs slip inside through the crack, despite various WordPress release. Thus to account these bugs, there are regular WordPress latest versions. Thus, eliminating any minor or major bugs from the previous versions is another popular reason for minor WordPress version release especially the ones with X.X.X.
If you visit the WordPress support forums asking for help, they first advice you to update your WordPress because it might fix the issue.
4. Compatibility
Compatibility is also a significant reason that encourages the webmasters or developers to update their websites. One should ensure to take advantage of newly available feature and enhancement. With the release of the newest version of core WordPress, plugins, and themes some themes and plugins become irreconcilable with the older versions of the WordPress and vice versa.
In fact, often theme and plugin developers synchronize their updates with the latest update of the WordPress to ensure improvements and features are being incorporated into the plugins and themes.
5. Improved Features
Each version of WordPress comes with enhanced features which are quite obvious. Often new version of WordPress is set to offer new features to the WordPress users. For instance, WordPress 3.9 comes with enhanced media support with header preview and improved media experience. The revised version 4.3 came with formatting shortcuts within the visual editor and inbuilt support for site icons.
If one is working on the older version of the WordPress, then your experience may differ hugely with the one who is using the latest version of the WordPress.
How to update your WordPress website

Updating the WordPress website, its plugins and themes are relatively easy. It often comes with built-in update notification system. The WordPress dashboard often highlights the updates when you log on to it. The developers just need to visit Dashboard > Updates page and further install those updates. It can be done via a single click.
However, many website owners do not log on to see the dashboard daily. So, there are other options too which serves them. The WordPress version 3.7 or above automatically updates for major releases, plugins as well as themes. Alternatively, one also gets email notification on the subscribed email address for updating. On any new update available, this plugin sends an email notification to the developer.
It regularly keeps track on WordPress core update, plugin updates, and theme updates. One simply has to save the setting with the test email button.
Get Email notification for Updates
It is always easier to get an email notification whenever there is any update for your WordPress website rather than always checking it. A developer simply needs to install and activate WP Updates Notifier plugin. It usually checks for updates in every hour. For activation of this plugin, visit Settings > Updates Notifier to configure the plugin settings. And whenever there is any change in this plugin, a new email notification is sent to your registered email address.
By default, it checks for WordPress core updates, plugin updates, and theme updates. A developer simply needs to save the setting with the test email button.
Auto-Install WordPress Updates
WordPress automatically updates the process for further release, plugins, and themes. It is the easy option to manage WordPress hosting. The WordPress companies automatically update your site to major WordPress version. However, there is always a risk in updating automatically.
Let's see how to use plugin method. A developer simply needs to install an Easy Updates Manager plugin. Upon activation, visit Dashboard > Update Options page to configure the plugin. Now the user needs to scroll to the automatic update section where the developer can update the core, plugins, themes, and translation files. Once completed a developer can save the file.
Wrapping up
It is very crucial to keep your WordPress site up to date. This makes certain that your website performs effectively and more importantly gives freedom from bugs and security breaches. The regular updating enables the website works in a bug-free environment while also enjoying new and amazing features.
Make your ideas turn into reality
With our wordpress development services