What all the WordPress developers are witnessing in the past month is a dynamic and prominent transformation in the current WordPress "Tipton"version. No doubt, the improvements have added to the already marvellous previous versions like WordPress 4.8 and WordPress 4.7. Isn't it a thing a much excitement because there are billions of users of WordPress as a CMS across the globe!
Whenever a new version of WordPress rolls out, all the eyes are set on the benefits a version can come up with. WordPress is already a very handy and flexible CMS and the WordPress developer community and companies rendering WordPress development services are always looking forward to make the things all the more easier for those who use WordPress in their daily lives as a career or for blogging!
We also discussed about the changes that have been rolled out in the WordPress 4.9 "Tipton" in a previous article. Now, we are also going to talk about how changes effected the way the developers were using WordPress for creating high-end and cutting-edge websites in this whole last month when the new version was released on the 15th of November, 2017.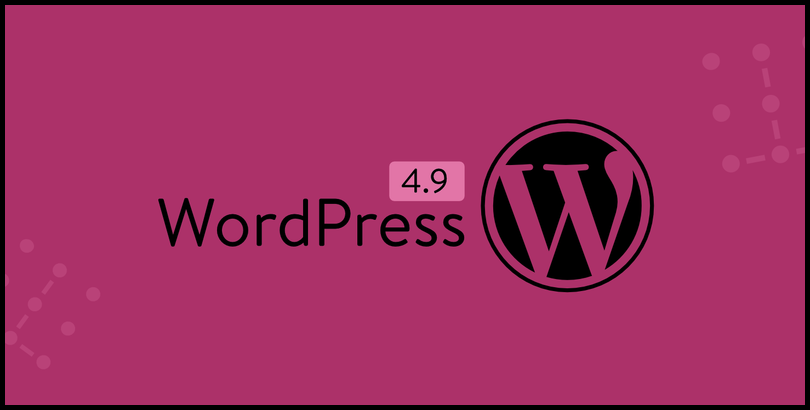 Another update here is that WordPress developer team has released a WordPress v4.9.1 with a more tighter security. As we know, new technologies come up with pros but the hackers and attackers also continue to develop better hacking techniques in the counterpart. To get tough on these things, WordPress came up knocking with better security feature in WordPress 4.9.1 just after a month of releasing the original 4.9 version "Tipton"
The easy workflow feature that has come up with the new version is such a relief. The WordPress developers can now work on this CMS with much more ease and this makes their development life much more laid down. Team efforts will bring more benefits because any team can now work in collaboration with each other. Coders will have a sigh of relief now. They can now finish their coding tasks in a jiffy because WordPress now has some amazing features to help the already frustrated coders.
Let's peep into what all features have WordPress v4.9 has come up with!
The all new improved Customizer is here!
With the brand-new Customizer features, the following features have been introduced:
Protect your changes at every step related to design.
Didn't like the changes you made? Discard changes easily with the options.
Collaborate with your team members so that everyone can contribute at the same time.
You can even track the changes and guard the changes against other designers if you think any one else can mess up with your design.
Theme Browsing is much more smoother and hassle-free now!
With this new version Tipton, any users can easily browse through the themes from within the customizer window, previewing themes is easy now. Even downloading and activation of the themes is easy. Filtering of the themes is also a great future.
Customization in the designs can be scheduled and drafted:
Have you got less time and you have already designed according to your customization requirements? No worries at all! You can easily save the draft and schedule the design to go live.
Get feedback on the design from the whole team:
Entire team is very important if you are working on some project. Getting feedbacks from the team helps you make better designs and better decisions. You can easily share the link of the design if you want to show others. Any WordPress developer will find this as a bonus point.
Make your ideas turn into reality
With our wordpress development services