Currently, it is the most popular WordPress CMS that makes it easy to create and manage websites on the behalf of the website developers. As a result, the demand for PSD to WordPress conversion services is increasing at a very high rate. When it comes to converting PSD files to be converted to WordPress, it must be made sure that all the steps are performed with much care and consideration. Any mistake while converting PSD to WordPress theme can come as a big issue in the near future.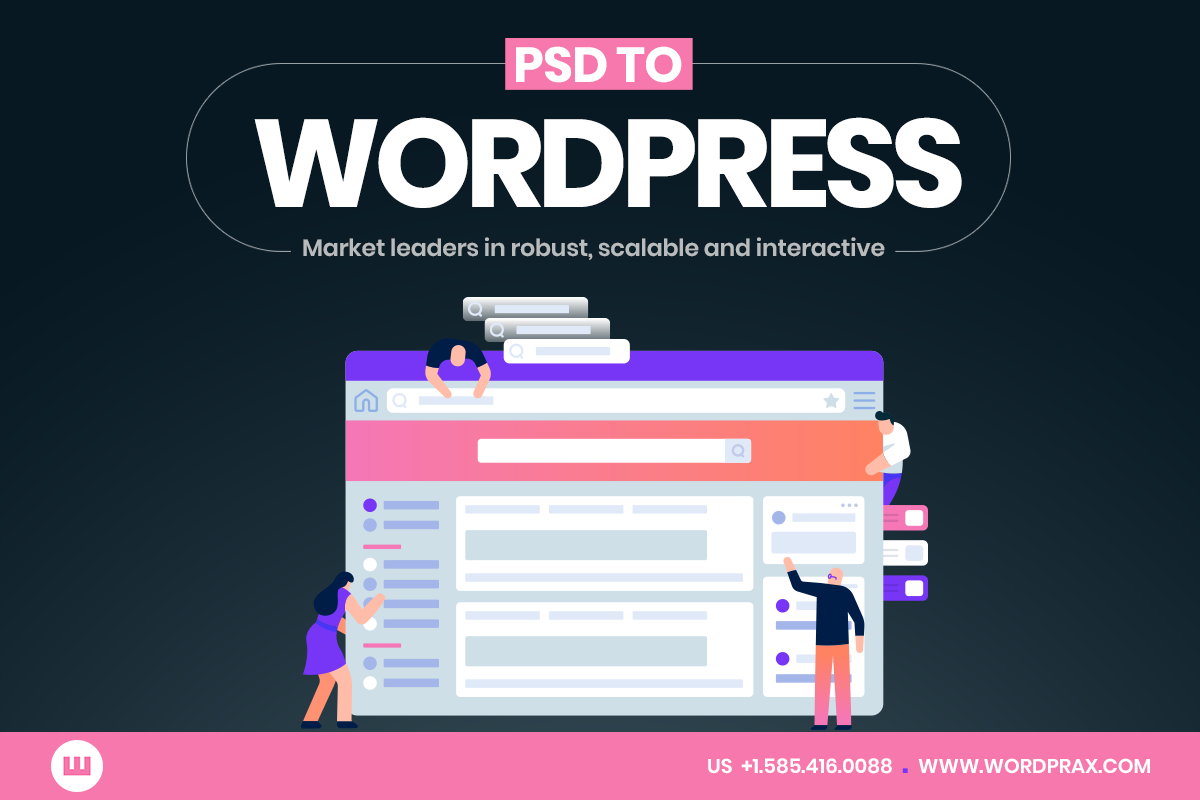 Basics of PSD to WordPress Conversion?
Before we move on to the steps of converting PSD to WordPress, it's important to know a little about the need and significance of the process and what all does it involve?
We will also discuss the need of a great-looking PhotoShop .psd file design so that it can be converted into WordPress theme easily. It is very important that the PhotoShop design file is perfectly made as it will be the design that will be converted to a WordPress website. The wireframe has to be made by the expert web designers so that the PSD design can easily be converted to a WordPress website theme. After the design is checked and PSD is submitted by the website designer, it is all on to the development team so that the PSD to WordPress conversion can be carried out.
One can easily hire PSD to WordPress conversion companies who have enough experience in converting PSD files to WordPress. As, this is a complex process, the business owner should not try to carry out the process himself. It can lead to distractions in the business target as more time will not be allocated to fulfilling business targets. It will be a great decision to hire experts in the field so that you can concentrate on the work rather than the nuances of designing and developing the websites.
Why hire experts for PSD to WordPress Conversion?
Hiring experts for PSD to WordPress conversion is the best decision because there are so many reasons for it. The motive of our article is to let you know the benefits of hiring professionals in the field.
Professionals will take care of your WordPress website and provide you with easy maintenance of your site / blog yourself. In addition, WordPress is an easy-to-use CMS without much knowledge of coding.
We can also suggest that to create some very professional websites, never ignore the potential of an expert web developer and designer to make the most of your website.
Benefits of getting WordPress website for your business
Cross browser compatibility
SEO semantic coding
W3C validation
Expert implement these elements in order to improve the availability, usability, visibility and effectiveness of the entire website.
One can easily find an excellent encoder who can turn PSD design into WordPress if you want to hire PSD to WordPress design. We will recommend to stay away from converting your PSD into WordPress yourself. If you do not want to sacrifice your valuable time, the best option is to hire a qualified service provider. In addition, the PSD conversion providers for XHTML / WordPress have experience in providing these services and are fully aware of the latest market trends. They can provide a unique look to your site and various practical functions.
Conclusion
Finally, before hiring a professional service provider to convert PSD to WordPress, you need to check the pricing structure of the conversion process and services they provide.
Make your ideas turn into reality
With our wordpress development services