On 8 June 2017, WordPress latest version WordPress 4.8 "Evans" has been released which is named in the honor of the jazz pianist and composer William John "Bill" Evans. WordPress 4.8 is now available for download or you can update in your WordPress dashboard. Before the release, so many WordPress developers as well as users were eagerly waiting for the release and they wanted to know what are the new updates and changes. As a good news, WordPress 4.8 offers many changes which developers will love as they will improve the user experience.
As "Evans" is a major release of WordPress hence you have to manually start the update if you are not on a managed WordPress hosting service.
Also it is important to take WordPress backup before starting the update. The WordPress developers have added three new default widgets in WordPress 4.8. Actually WordPress users were waiting for these widgets since long and now they are happy that finally they got them.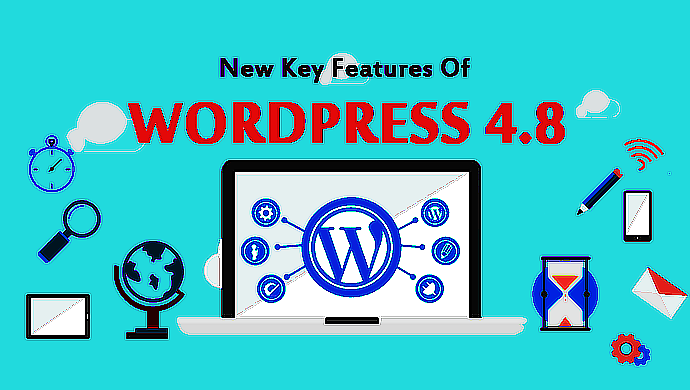 These updates look minor but they are due to the efforts of hundreds of developers. Look at these updates and new features which surely you will like:-
Link improvements
New media widgets under images, video and audio
An upgraded text widget which supports visual editing
Upgraded new section in your dashboard to notify you about nearby WordPress events and meetings
Also read this : What's New With The WordPress 4.7.2?
Widget Updates
– Image Widget
WordPress has made it easier to add an image to a widget. You can do that even if you don't know programming. You can insert your image right within the widget settings.
Video Widget
WordPress has made it easier to add any video from the media library to a sidebar on your website with the new Video widget. If you want to enhance the brand of your site then a video can help. You can use this to show the video which has information about your new products or offerings.
Also read this : WordPress Update Now Available: Version 4.7.3
– Audio Widget
WordPress has made it easier for you to add your audio file to the widget. If you are a musician then it will help you. You can just upload the audio file to the media library and then go to the widget settings to select the file.
– Rich Text Widget
With new update now you are more capable of rich text editing which has now become native for the text widgets. Now you can work with your new formatting powers. WordPress developers have loved this new feature.
– Link Boundaries
If earlier you have faced problems in updating a link then now with link boundaries, a new feature, you can easily update links.
Notifications about WordPress Events
WordPress has huge open source and development community which holds regular meetings and events. It has presence in more than 400 cities around the world. With this new feature WordPress will update you about all of these events and meetings happening near your area. You can join them and increase your skills or make new friends. These events will be visible in the WordPress dashboard.
All of the WordPress developers were waiting for the launch of WordPress 4.8 hence this is a good news for them that WordPress new version has been launched with improved features. These new features will benefit WordPress developers as well as the site owners and visitors.
Make your ideas turn into reality
With our wordpress development services