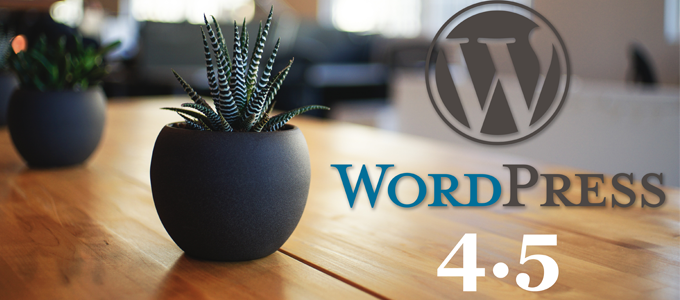 As you know that beta version of WordPress 4.5 was already been released by WordPress organization. Following closely with the development process of WordPress, it's a great news that WordPress 4.5 version, that's the latest version of WordPress is now expected to be released by the second week of April, 2016. In this article, you will come across various essential highlights of WordPress 4.5 version that will help you know about "what's new is cooking inside WordPress 4.5 version features and its screen-shots. Well, this is the beta release of WordPress 4.5 version and it comes with all the new features that you are going to have access to WordPress 4.5 until its final release that is due in the second week of April 2016.
Nowadays WordPress development process is drastically taking its brand name among WordPress developers. But, developing a professionally sound WordPress website surely needs to focus towards hiring a professionally sound WordPress Developer. It will help you increase your chances of getting more business opportunities at high productivity rates.
Let's see what are those unique and enhanced amenities that WordPress 4.5 version has in its store?
Theme Logo Support:
Appending a Theme logo feature from a customizer is a long awaited feature in WordPress CMS tool. WordPress 4.5 version has added new theme logo support to WordPress core. There are too many premium WordPress themes that efficiently encourage users to upload custom logo features, by using their own options panel. With the core support of WordPress feature, it would become extremely easy for users to perform the theme customization process from theme customizer panel.
Visual Editor Improvements:
As it is quite understood that majority of WordPress users spend half of their time in developing  contents for blogging purposes. Anything that offers the capability to initiate the writing experience of WordPress contents into much better form and faster, then  it is always considered as a good thing.  WordPress 4.5 is developed with enhanced and highly new improvement features to work with the visual editor, that has firmly improved the writing experience for users.
Inline Link Annotations:
WordPress as we know, it already comes with the topmost time saving short-cuts, that helps all of us, and especially frequent WordPress bloggers to write faster than ever before. One of these shortcuts you have with you is CTRL+K (Command+K on Mac), that allows you to insert links in different WordPress posts. Further, this newly developed shortcut agapes all your insert link pop-up options for WordPress users. Further, moving ahead with the new WordPress 4.5 version, lets you access CTRL+K shortcut key that exemplifies an inline insert link menu. You simply need to type the URL and then just continue writing your blogs on that section or any other type of posts without even removing hands from keyboard.
Inline Text Alternatives:
Inline text shortcuts were introduced in WordPress 4.3 version that encouraged users to append various formatting mark-up features by using simple text shortcuts at rapid speed.  So, in latest version of WordPress 4.5, you can easily work with more shortcuts such as  "code for code" and **bold** for bold. Users who are not fine with working with these new WordPress 4.5 shortcuts, they have other option to disable inline text shortcuts in visual editor.
Improved Moderate Comment Guard:
It is quite usual for most of the bloggers to spend half of their time in modifying the comments in WordPress. Comment modification in WordPress is another necessary task that every blogger has to go through in order to adjust all the comment spam in WordPress.
So, in new WordPress 4.5 version, it sends you email notifications whenever there is any new comment submitted to the WordPress blog section. So, clicking on the "approve section", "spam" or "trash link" in the email, it will take you to the screen where you can have access to multiple comments with a button to perform the desired action.
Responsive Preview in Customizer Section:
WordPress 4.5 has introduced another cool addition to the customizer panel that will encourage WordPress users to analyze responsive previews of their blogging sites directly in the customizer section.  It simply asks you to click on the designated device icon at the bottom area to easily switch to view mode between devices. Currently it will allow WordPress users to show up desktop, tablet, and mobile device sneak peaks. This feature further gives you a generic idea on the matter of about discussing "how your blogging website would appear on the respective devices?"
Optimized Image Size Generation Process:
When WordPress organization introduced various unique responsive images in WordPress 4.4, it allowed users to view their contents on smaller screens in an appropriate manner. Of-course, this feature appeared to be a great in front of WordPress users as it drastically enhanced the content viewing purposes of websites on relatively smaller screens, by further saving their money on data plans.  But, after introducing WordPress 4.5 version, it offers more improved process of viewing contents of bloggers. WordPress version 4.5 has further optimized images to depreciated site's quality damage up-to 50%.
That's All Folks! You are further welcome to put your comments forward!!
Make your ideas turn into reality
With our wordpress development services