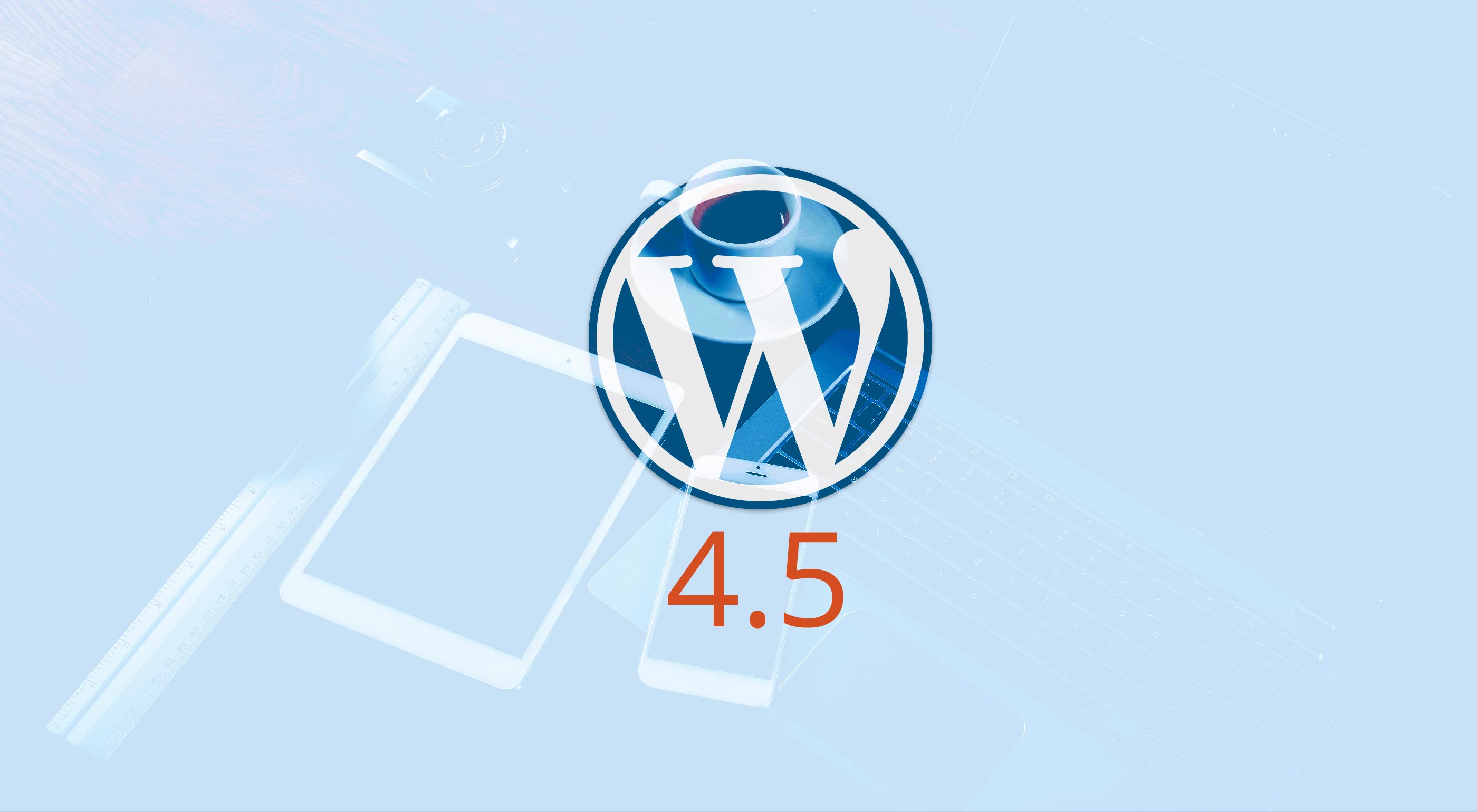 WordPress is about to complete its 13 years in the industry on 27th of this month. In this pacing technology it is quite tough for a technology to retain its position for so many years in the market. The constant evolutions for WordPress has made it possible for the software to maintain a constant position in the market. This is the reason why this platform has kept the zest of the developers alive among the users.
In this blog we will discuss some of the most important features that are required for the developers to come up with innovative new ideas using the ever evolving platform.
WordPress 4.5 include the following features that will help you to take to match pace with the growing technological advancements.  Let's find out!
Logo Support for your Theme
It is quite difficult to add a theme logo from customizer was one such feature that we longed for quite sometime now. WordPress 4.5 will offer theme logo support for WordPress core. There are several premium WordPress themes that offers an options panel to add custom logo of their own.
It allows core support that one can get for the feature, this become possible for the users easily using the theme customizer.
Themes can  easily define support for logo with incredible size values such as:
add_image_size( 'myweb-logo', 1600, 125 );
add_theme_support( 'site-logo', array( 'size' => 'myweb-logo' ) );
If you have a theme that do not has this feature, then you will get to know through the customizer.
Improvements in Visual Editor
There are ample lot of WordPress users those who consume their time in developing content. Therefore, the best thing would be to make their writing experience faster and smoother will be good for the users.
WordPress 4.5 has launched several changes as well as advancement in the visual editor, and they all aim to improve the writing experience of the users.
Inline Link Editing
WordPress has come up with some incredible shortcuts, that are curated so as to make their development faster. Among these one of this is CTRL+K (for Mac users Command+K), and using this you can insert links in your post.
Using this shortcut you get to open a insert link popup, which is a bit distracting. In WordPress 4.5, you get to press CTRL+K and this shows an menu for inserting link.
You can simply type the URL and you can continue with the post that   you were writing and this can be done without moving hands from your keyboard.
WordPress 4.5 comes with incredible Inline editing
There are ample lot of Inline text shortcuts in WordPress 4.3. Using them the users can easily incorporate formatting markup through simple text shortcuts.WordPress 4.5 is offers some more shortcuts such as **bold** for bold and `code` for code.
Get acquainted to the new inline text shortcuts
There might be people who do not like the following shortcuts, therefore they can also disable these inline shortcuts.
A Changed New Moderate Comment Screen
A lot of time has been spent by the bloggers to moderate all the comments in their WordPress website. Comment moderation is a prime requisite that  we need to tolerate so as to tackle comment spam for your WordPress. WordPress sends the web users an email notifications when ever a new comment is entered in the website.
All you need to do is to click on a button that says approve, trash or spam the link in the email from where you can perform what you wish to  do with the button. This is the screen from where you can edit your comment.
It also does not show you in the formatting comment text, which is not  quite pleasant. WordPress 4.5, shows you an improved version of the screen.
You will get to see formatting present in the comment text which would  also appear the same in the browser. It further offers a link that can help you to edit the comment.
Responsive Customizer
WordPress 4.5 comes up with another incredible version of the customizer. This allows you to see incredible responsive previews of the website which is directly present in the customizer.
This allows you to click on the icon of the device which is present in the bottom that allows you to switch between the devices. Right now you can see previews of Tablet, Desktop, and mobile version of the device. This renders a basic idea of how your website looks on the device.
Optimized Image Size Generation
In WordPress 4.4 onwards you will see the concept of responsive images included in it. Which means in earlier versions of WordPress were unable to make use of smaller screens so as to get images that fits to the screen size irrespective of the size and orientation of the device.
This feature is an incredible feature as it helps in improving the  performance of the websites even on handheld device screens, and also saves them money on data plans.
It further optimizes the images further to cut short the rate of the website  50% without compromising on the quality of the images. However, it is recommend to save images that are optimized for web in order to get best results.
Email Address Login for users
It is very hard to keep a track of the usernames as there are chances that we are using different sites. This is one of the reason why well known websites such as  Twitter, Facebook, and several others ask their users to make use of their email address itself.
It is but natural that people can forget their username, however chances are that it is quite not possible to forget the email address.
Wrapping Up!
WordPress being a ferociously growing technology has rendered a wide range of improvements such as WordPress 4.2 and several others. However, this new improved version comes with top notch features for the developers to deliver highly advanced websites.
Make your ideas turn into reality
With our wordpress development services